Come join in on the homecoming fun! All businesses, community organizations, and alumni are welcome to participate in the homecoming parade this Friday, Sept. 24 at 1:15 P.M. Line-up begins at 12:45 P.M. along the east side of IGEMS and back to the bus garage. The theme this year is Dancing Through the Decades. General Guidelines: *No student drivers are allowed *No four-wheelers are allowed *Students are not allowed to ride on the outside of any fire trucks or semis. *Any floats on which students are standing must have sides; if students are seated, flatbeds are okay. *No candy or giveaways allowed on the parade route. *Horses/other animals must be diapered or have pooper-scoopers immediately following them. Please email Mrs. Rosemeyer (
mrosemeyer@igs.k12.wi.us
) if you would like to add an entry for the parade or if you have additional questions.

Dear Panther Community, I am thankful and honored to begin this journey as Superintendent of Iowa-Grant Schools. I am happy the District Office is located in IGEMS because for the past five years I have made IGEMS my home and family. I look forward to expanding my role and spending more time at the high school and meeting with community leaders and groups. For those that do not know me, I have been a principal at IGEMS for grades 2-8 since 2016. My mother grew up in Linden, the daughter of Royal and Edna (Liddicoat) Jewell. She has fond memories of the Linden School as a child. When I became a Panther, after teaching math and language arts for 23 years at Pecatonica, my family bought my parents' home and moved to Mineral Point. My husband, John, and I have a busy life with our blended family: Spencer (26), Alex (21), Logan (21), Hannah (19), Addison (15) and Alexis (14). We enjoy any occasion that brings us together, including golf and football Sundays. As we start Homecoming Week, I want to encourage all our students, staff, and community members to come together in Panther Pride. Socrates said, "The secret of change is to focus all of your energy, not on fighting the old, but on building the new." This is a chance to refocus our attention on learning. In August, our staff came together for inservice days. We chose to set our own course, despite a lapse in leadership, and renew our commitment to students and instruction. How? Every day, we will work hard, stay positive and spread kindness. We will focus on teaching, learning, demonstrating, supporting, and challenging. We will focus on what we do well and what we can do better. We will choose to set aside the issues, conversations, and controversies that are outside our schools and beyond our control. We will show our service and gratitude to our school and community. We will celebrate our students and staff in classrooms together. We will choose to learn and grow. This year will be challenging. Tough decisions will be made. Opinions will differ. I ask all Panthers to join us. Let's steer the conversations to Panther Pride. Let's talk about all the great things happening right here, right now. Let's show our youth the power of community, service, and tolerance. Let's demonstrate how differences in opinion can be accepted and respected. Now more than ever, let's support our students and staff and show our school pride. Get ready to wear your Panther gear - Happy Homecoming! Go Panthers, Robyn Oberfoell 608-943-6311 ext 1075
roberfoell@igs.k12.wi.us

It's Homecoming Week! Check out the dress-up days at the high school and all the other activities going on this week!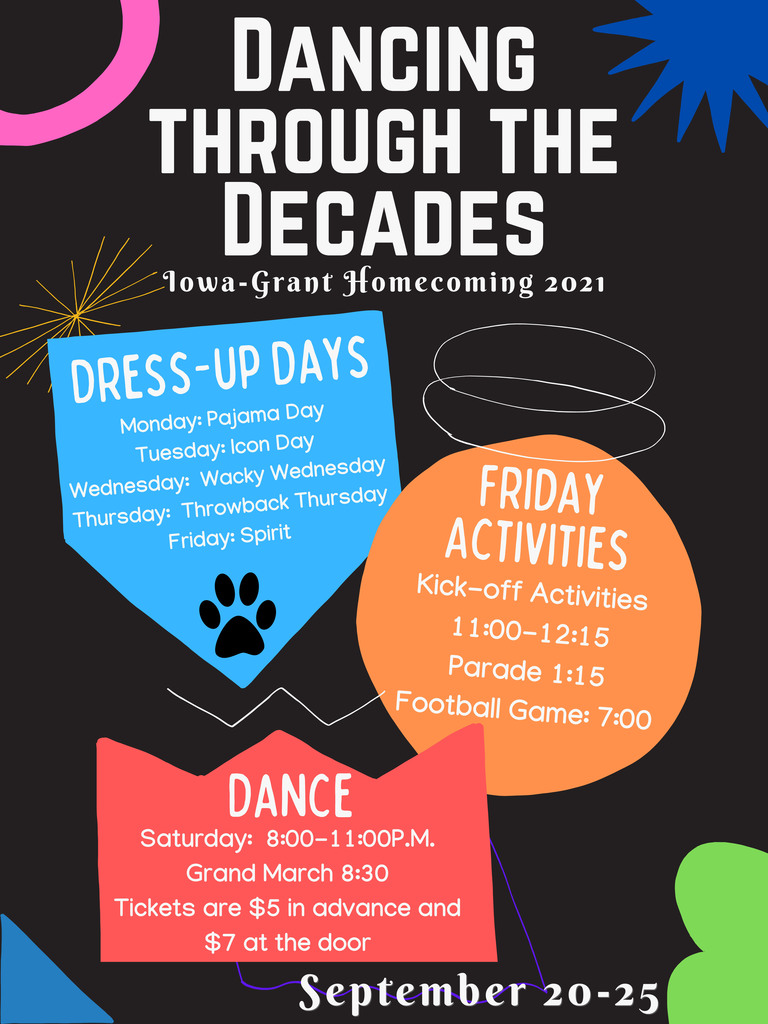 There is a New Orleans trip meeting for any HS Band or Choir parents (students are also welcome) tomorrow, Monday, September 20th, at 6:00pm in the HS Band Room. The regular scheduled Music Parent meeting will follow to discuss the fall pasty sale. As always, we'd love to see/hear input from as many people as possible! Both will be hosted at the following link for those wanting to tune in virtually. September Music Parents Meeting Monday, September 20 · 6:00 – 7:00pm Google Meet joining info Video call link:
https://meet.google.com/fmh-jqsu-qzq
Or dial: ‪(US) +1 209-457-0365‬ PIN: ‪357 068 665‬# More phone numbers:
https://tel.meet/fmh-jqsu-qzq?pin=2004661858857
A huge THANK YOU to Keith from Iowa County Emergency Management, Iowa County Sheriff's Department, Iowa County Dispatch, Cobb, Montfort, Livingston, Rewey, and Linden Fire Departments, Cobb and Livingston First Response, Montfort EMS, Highland EMS, Haase Service & Towing, and the Grant County Coroner's Office for participating in the Iowa-Grant High School Mock Accident. Thank you to our student patient volunteers for making it very believable. Great Job Everyone!!!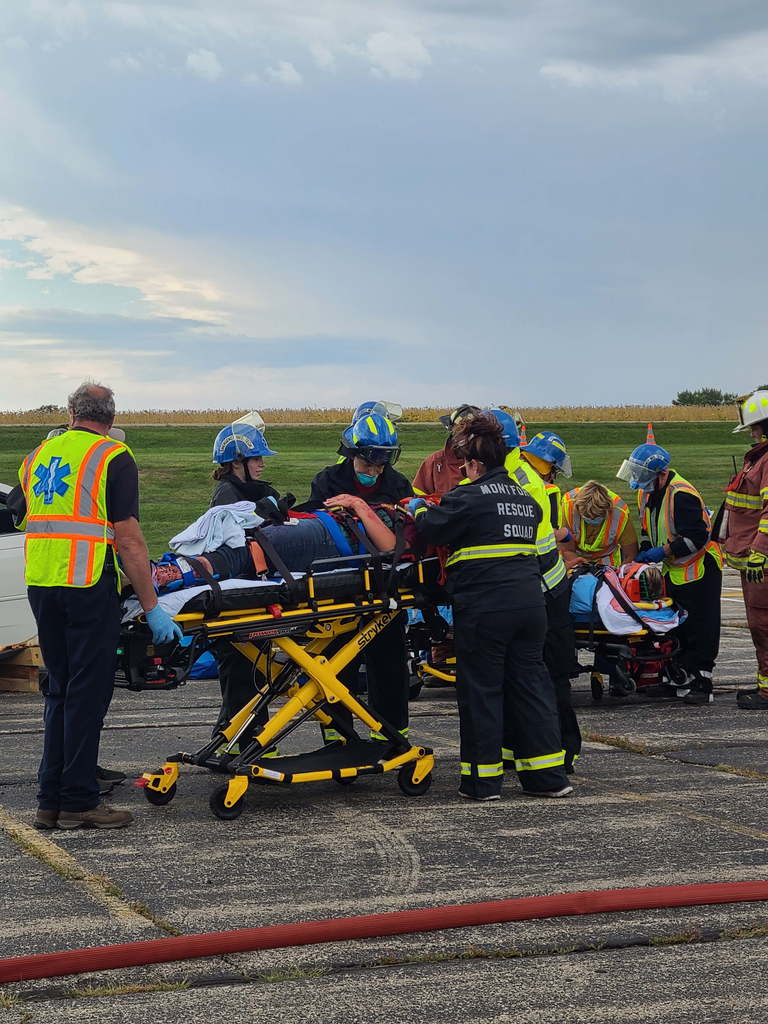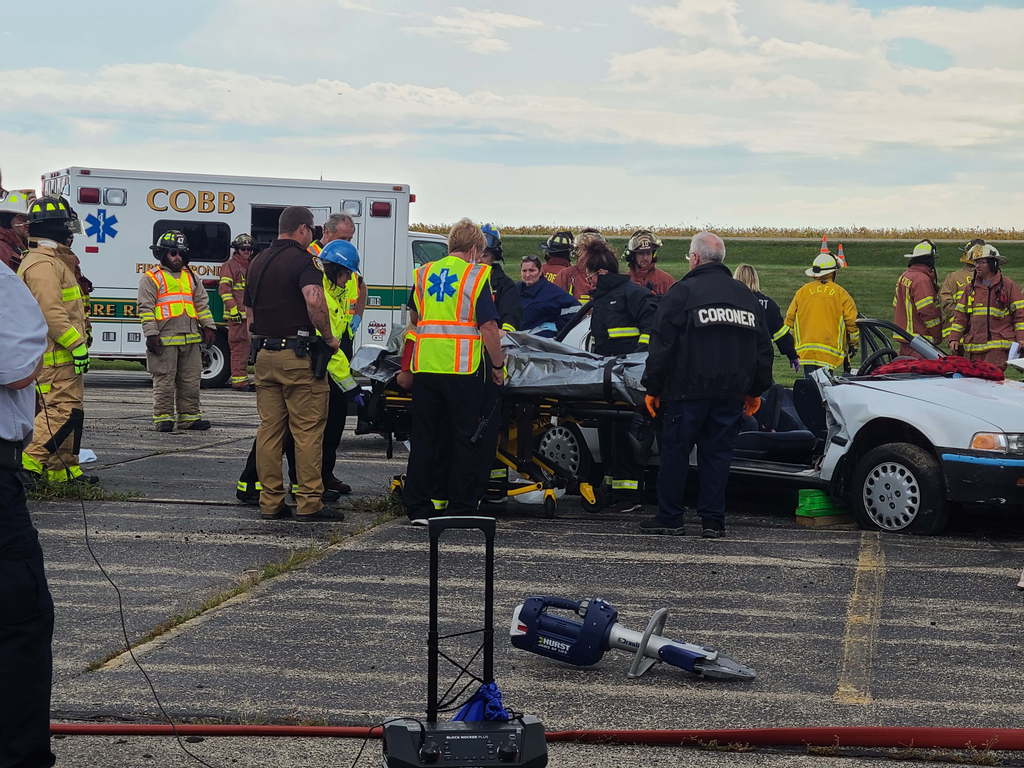 Tonight IG Football. Potosi/Cassville @ IG. Kick off: 7:00p Live Stream:
www.nfhsnetwork.com
Go Panthers!!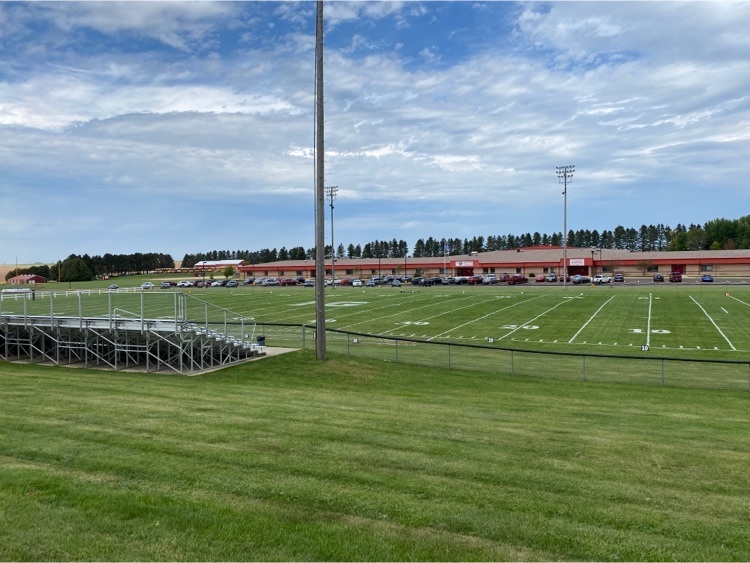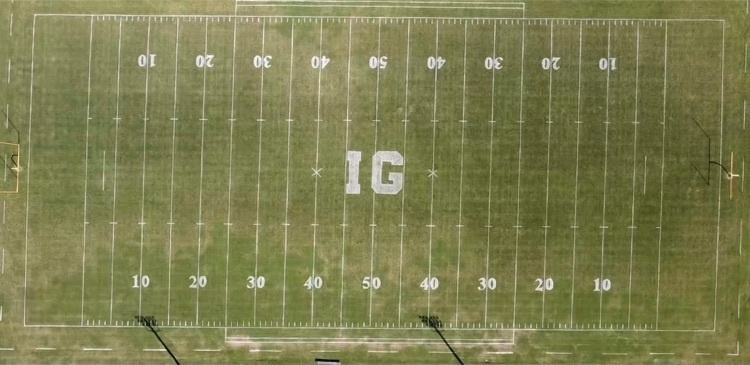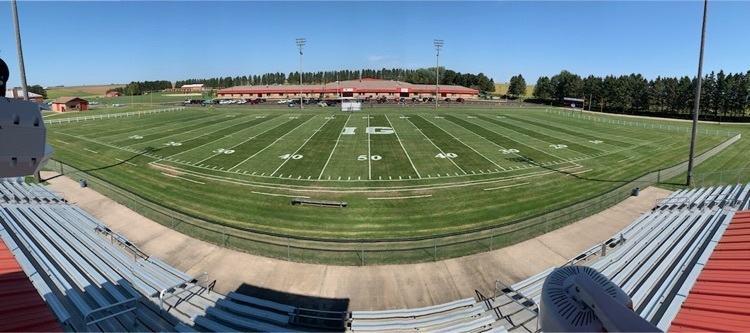 Stream live tonight's volleyball JV and Varsity events Vs. Cuba City!! Go Panthers Go!!
www.nfhsnetwork.com
Log in, Go to Iowa-Grant, and watch it live!!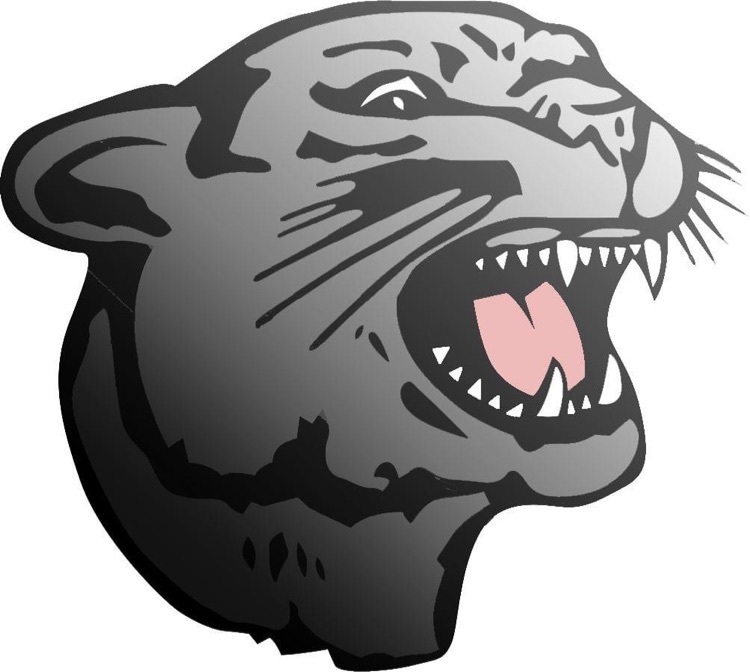 Only a yearbook can bring you right back to the cringy styles, school pride, and special moments shared with friends in high school. You won't regret having it all captured for years to come in the yearbook. ORDER YEARBOOK › jostensyearbooks.com ---------------------------------------------- SPECIAL UPGRADE OFFER Get four free icons (valued at $20.00) when you upgrade the cover by adding a student name for $7.50. Offer ends Friday, September 17, 2021.
Iowa-Grant Homecoming September 20-25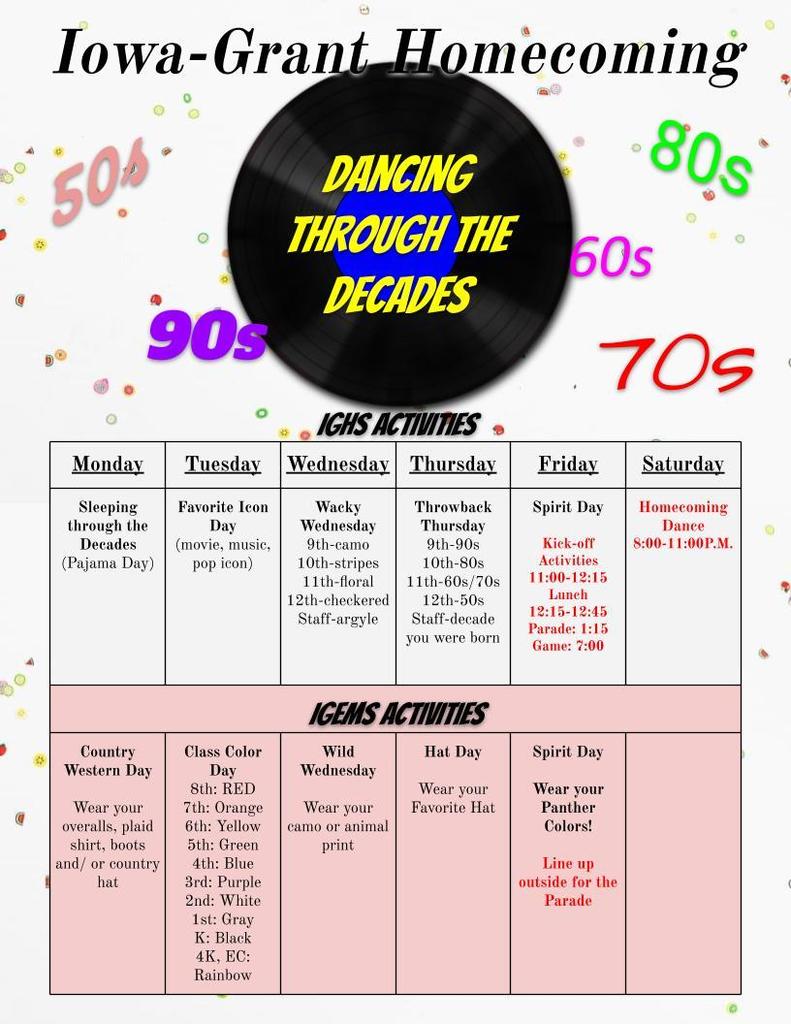 County Fair Spotlight #9 Makaya M. is an 8th year member of the Rewey Lucky Stars 4-H Club and a 2nd year member of the Iowa-Grant FFA Chapter. Makaya showed her pig named Tater Tot at the Iowa County Fair in the light weight class and placed 2nd. Makaya enjoys seeing all of her long hours over the summer payoff in the showring. She would like to thank Nutrien Ag Solutions for the purchase of her hog during the auction. She would also like to thank her parents for teaching her and helping her throughout the summer with her fair project!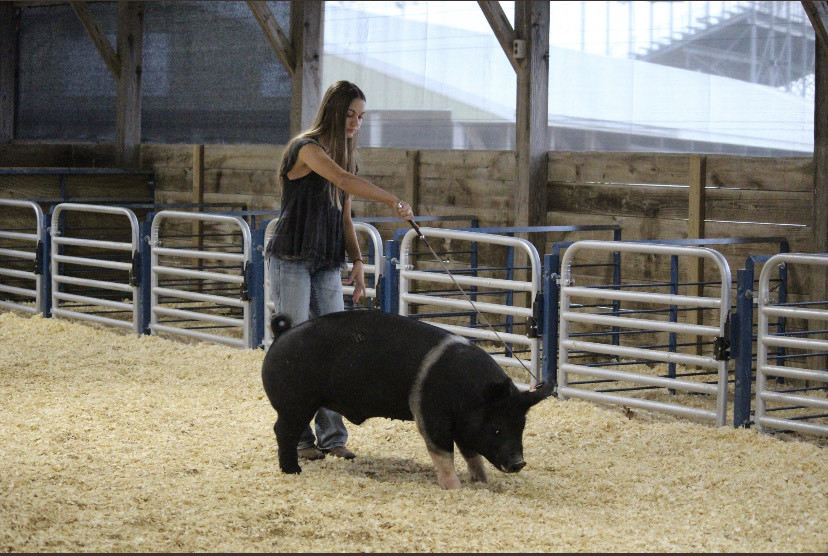 IG Homecoming 2021 "Dancing Through the Decades" T-Shirts are on sale until FRIDAY (9/17) @ 2:00PM. Check out the order form at
https://5il.co/yw82
. Wear your Panther Pride!!!

County Fair Spotlight #8 Skyler A. is a 4 year member of the Iowa-Grant FFA Chapter and 9 year member of the Eastman Cloverleaf 4-H Club. Skyler showed his Registered Holstein Cattle at the Crawford County Fair over the summer. Skyler received the following places: - Holstein Fall Yearling – 1st place - Holstein Spring Yearling - 1st place and Reserve Junior Champion - Holstein Fall Calf - 1st place - Holstein Winter Calf - 1st place - Showmanship – 2nd place Skyler's favorite part about showing at the fair is seeing his hard work pay off in the showring. Great Job, Skyler!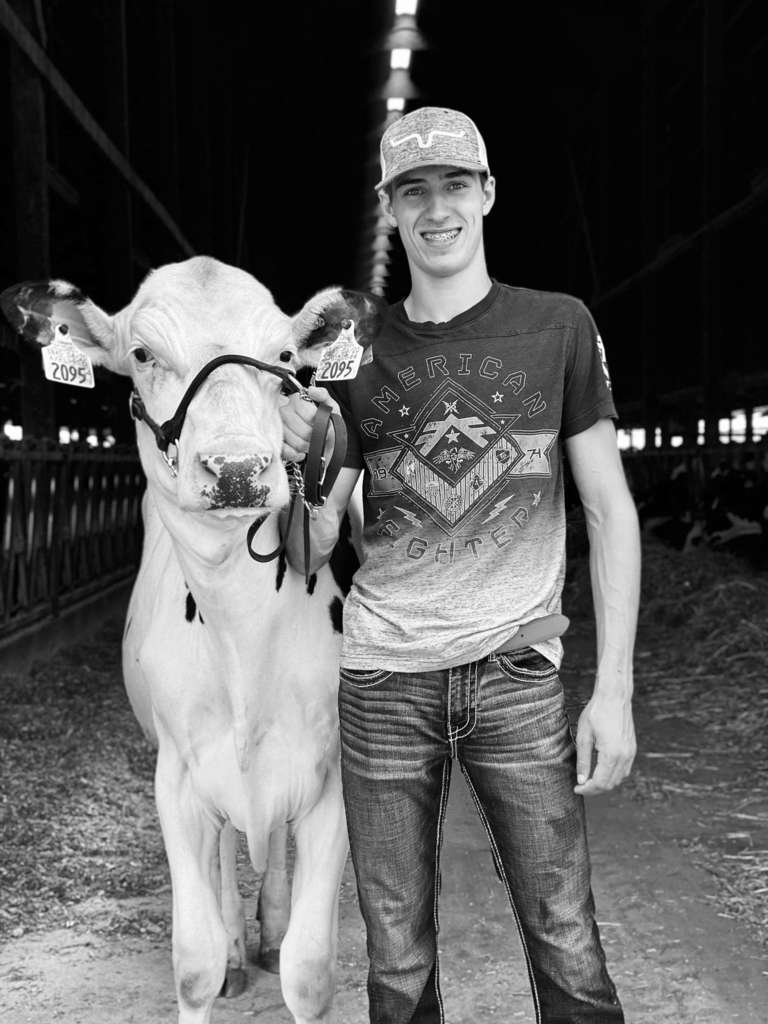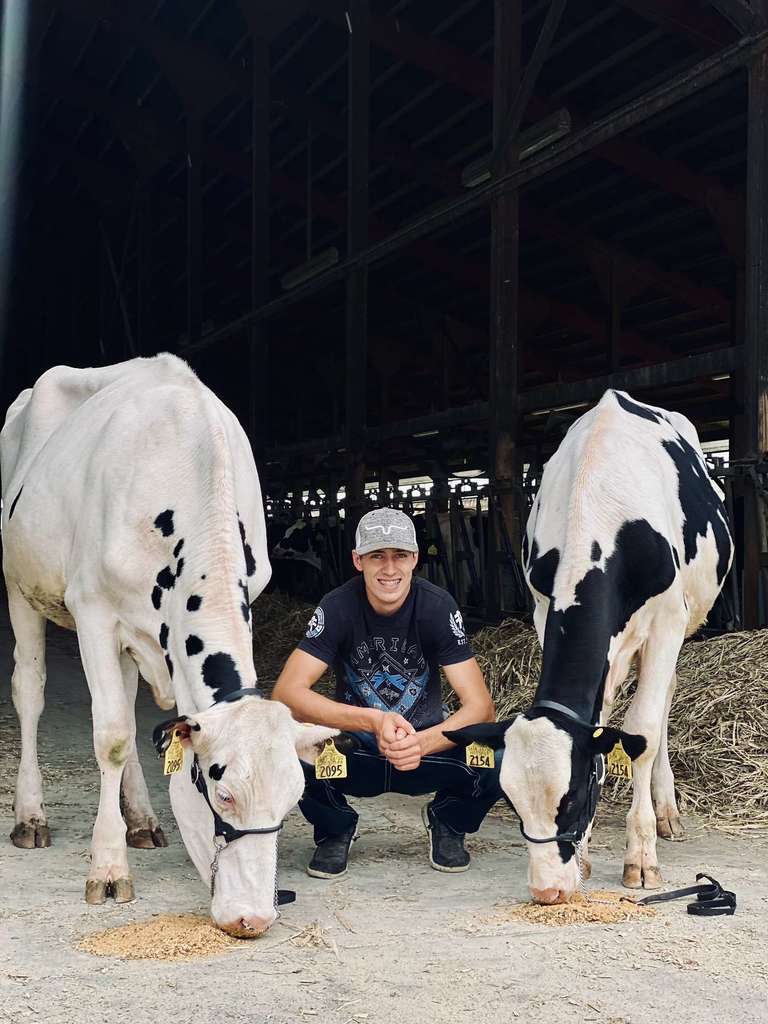 The I-G FFA officer team has been busy designing the FFA clothing order for the 2021 School Year. The link is now live. Feel free to browse and shop at your leisure. Orders are due Mon, Sep 27, 2021 (11:59 PM CDT).
https://iowagrantffa21.itemorder.com/
The quote on the back says "FFA isn't just about showing livestock, playing in the dirt, or driving a tractor. It's about learning to become self-sufficient and grow into tomorrow's leaders."

Hiring four positions: Principal - Elem/MS 50% Special Education Teacher - Elem/MS Assistant - Special Education - Elem/MS Custodian - 2:00 pm-10:30 pm - Elem/MS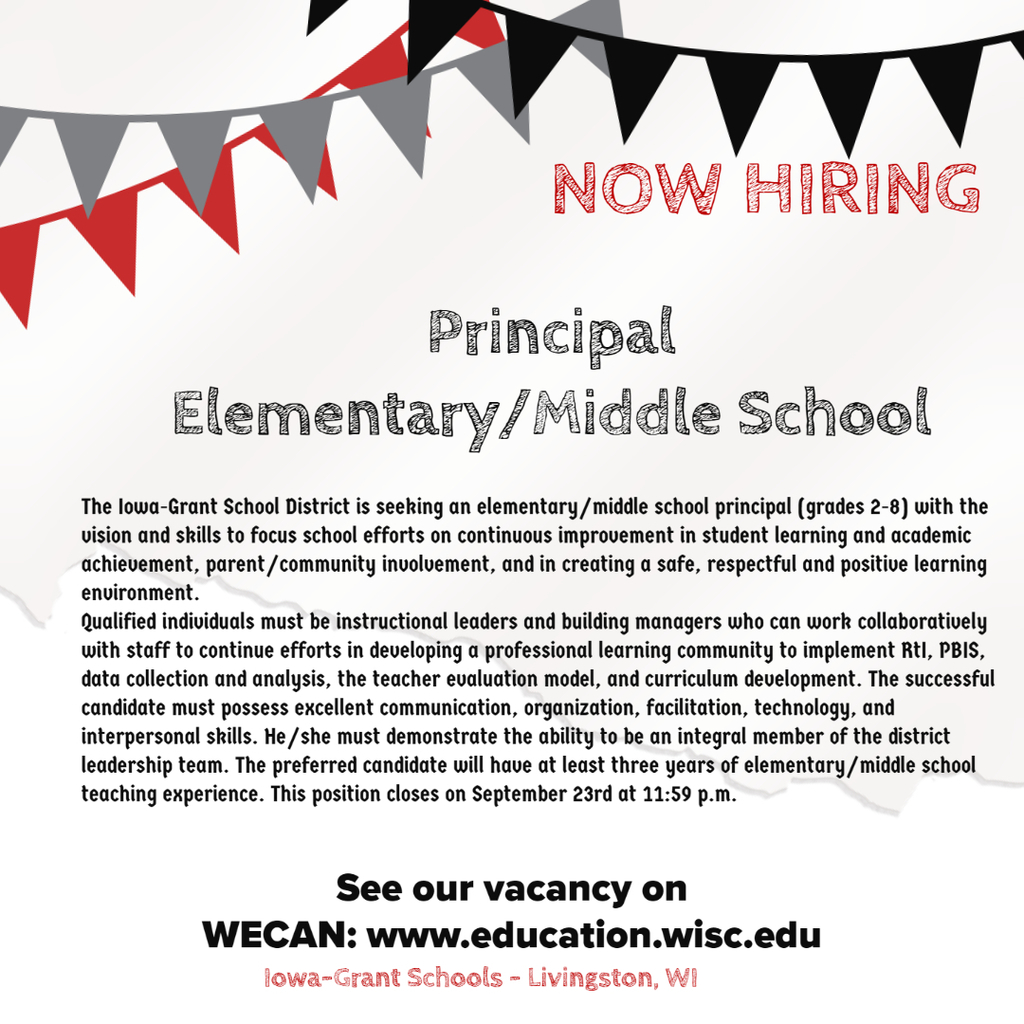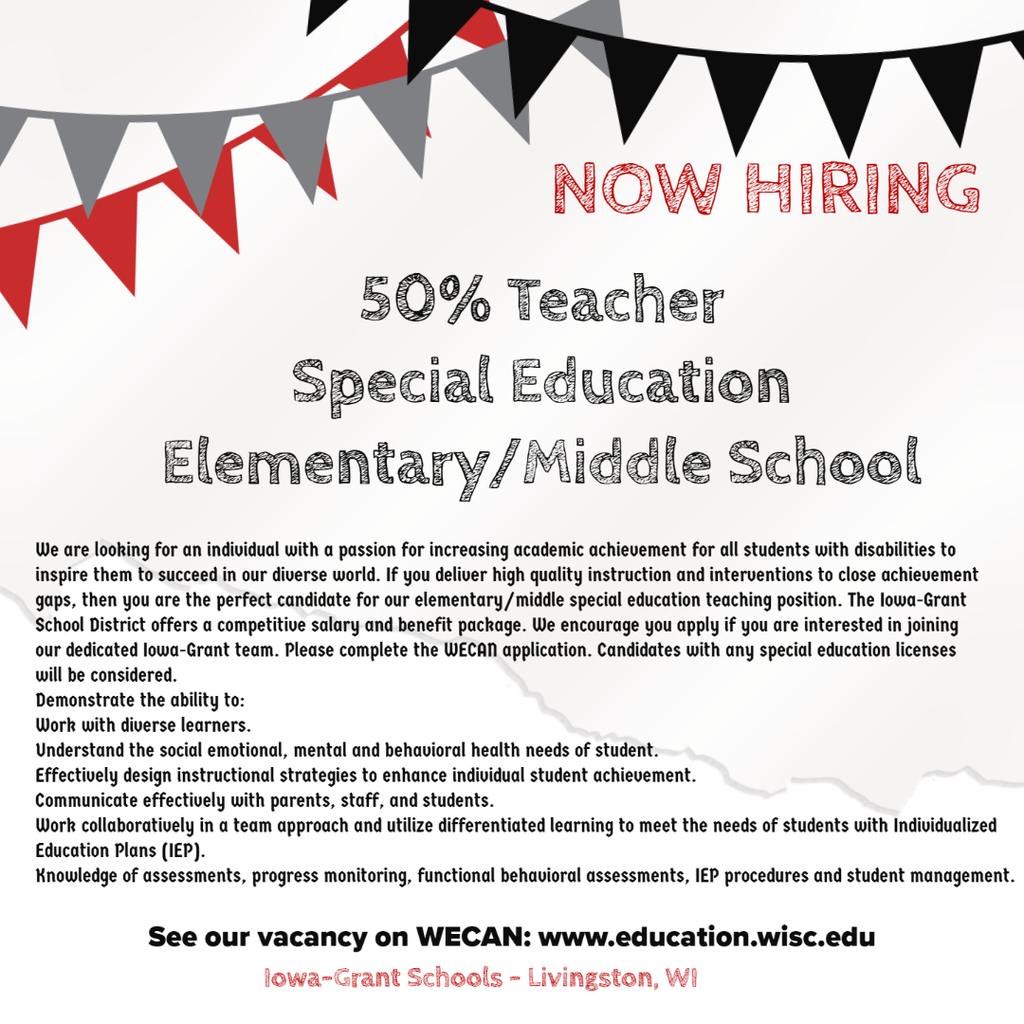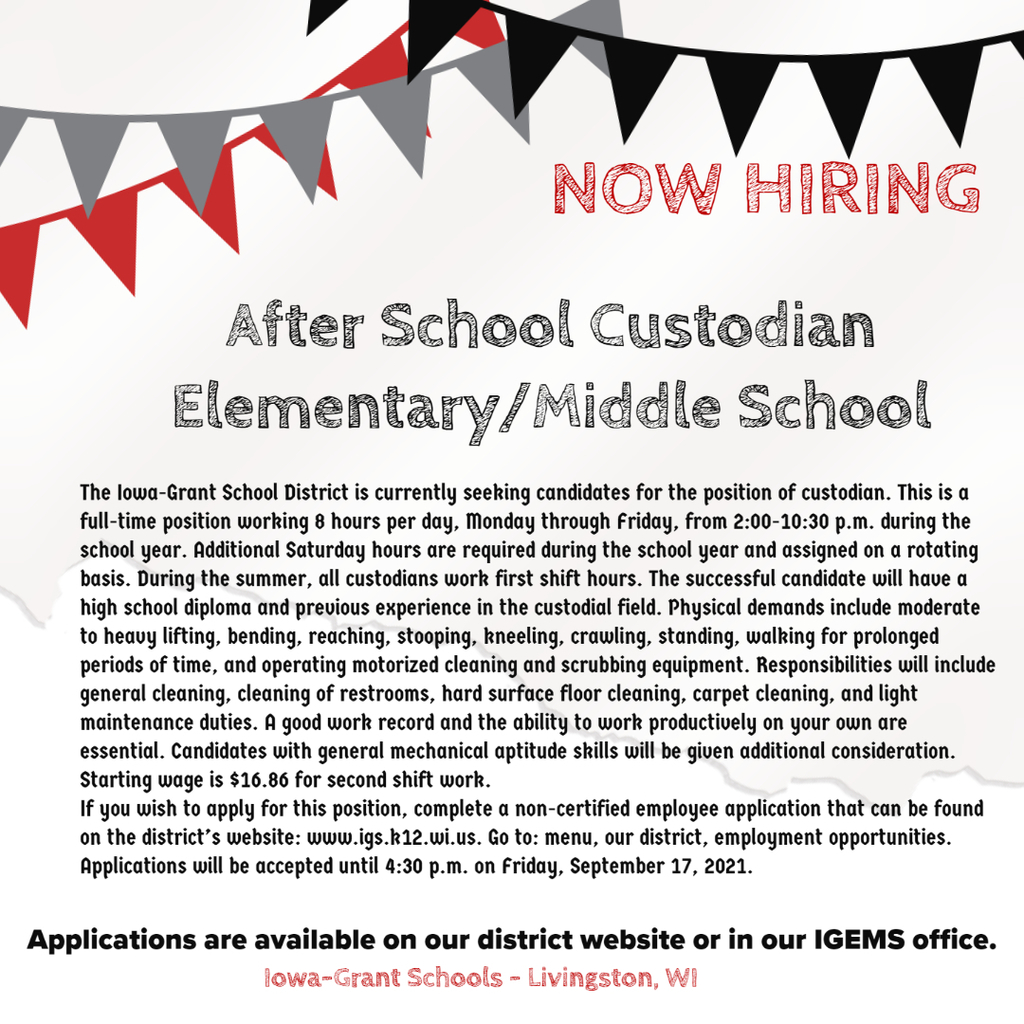 Be a Panther! We're hiring!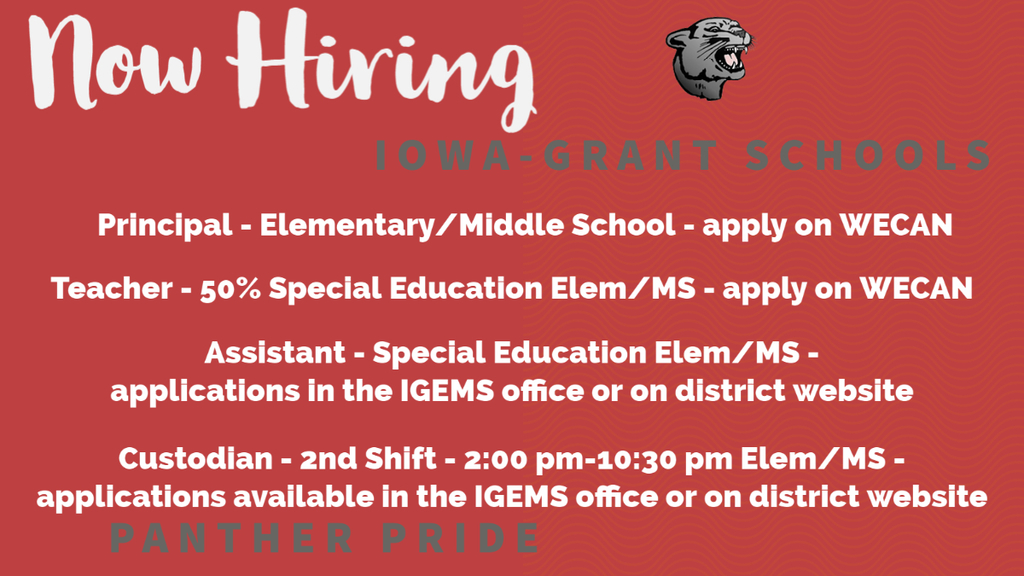 The Iowa-Grant FFA Chicken Coop has been up and running since the start of school. We have 12 happy and healthy chickens. Today our chickens made history as we had our first two chicken eggs appear in our coop! It is so exciting to have a hand-on educational experience in our own backyard. Special thank you to all of our donors! Bronze Level: Fritsch Family Kathy Lenz In Memory of Dr. Jack Jinkins Joseph and Annette Carroll Badger Welding Supplies, Inc. Grant County Farm Bureau Michael and Erika Kelley Family Premier Cooperative Livingston Co-op Oil Company Pilling Electric Services, LLC Trailside Powersports, LLC Aspen Ridge Home and Garden John and Jean Slack In Memory of Mother Larsen's Chickens In Memory of Loren Johnsen Montfort Veterinary Service, Inc. Royal Bank Allegiant Oil, LLC Ross Soil Service, LLC Pat and Dawn Miess Fillback Family of Dealerships Silver Level: Iowa County Farm Bureau Bob and Paula Daentl Community First Bank Sloan Implement Company, LLC Clare Bank Biddick, Inc. Betty, Roger and Lynn Schambow Ivey Construction, Inc. Gold Level: Liddicoat Trucking, Inc. Dave and Carol Rundell Ritchie Implement, Inc. Mississippi Valley Lodge No. 86 Volenec Family Barrett Concrete Platinum Level: Greg, Denée, Grace, and Avah Clark Burnham Lumber Company, Inc. Elmer G. Biddick Charitable Foundation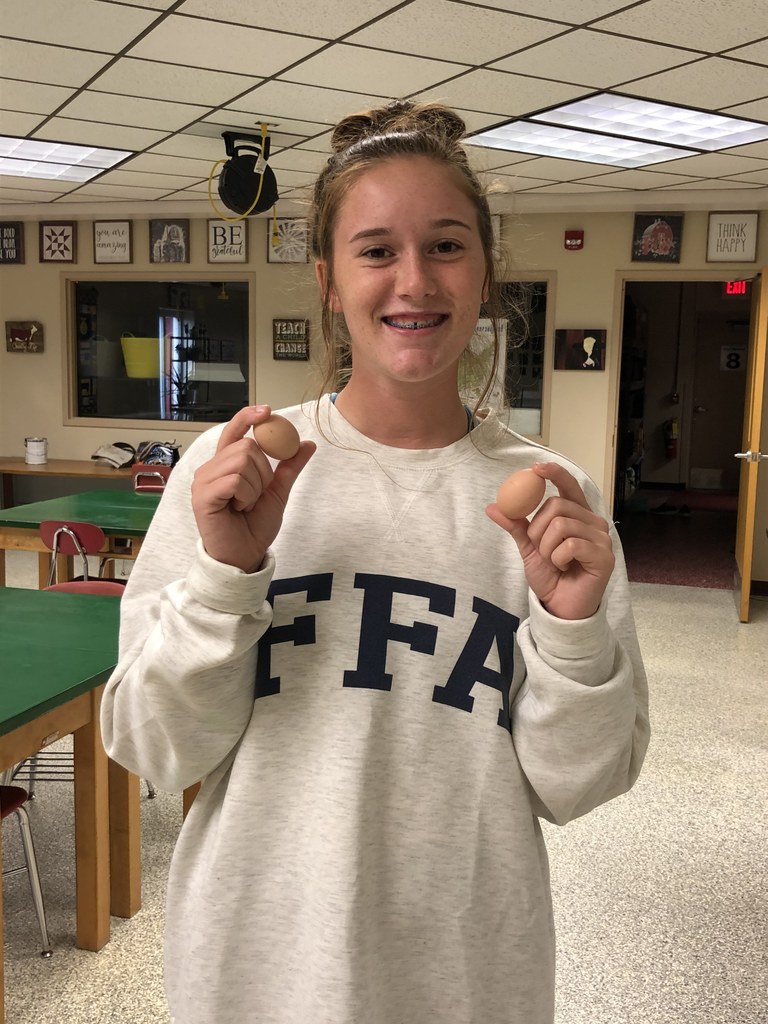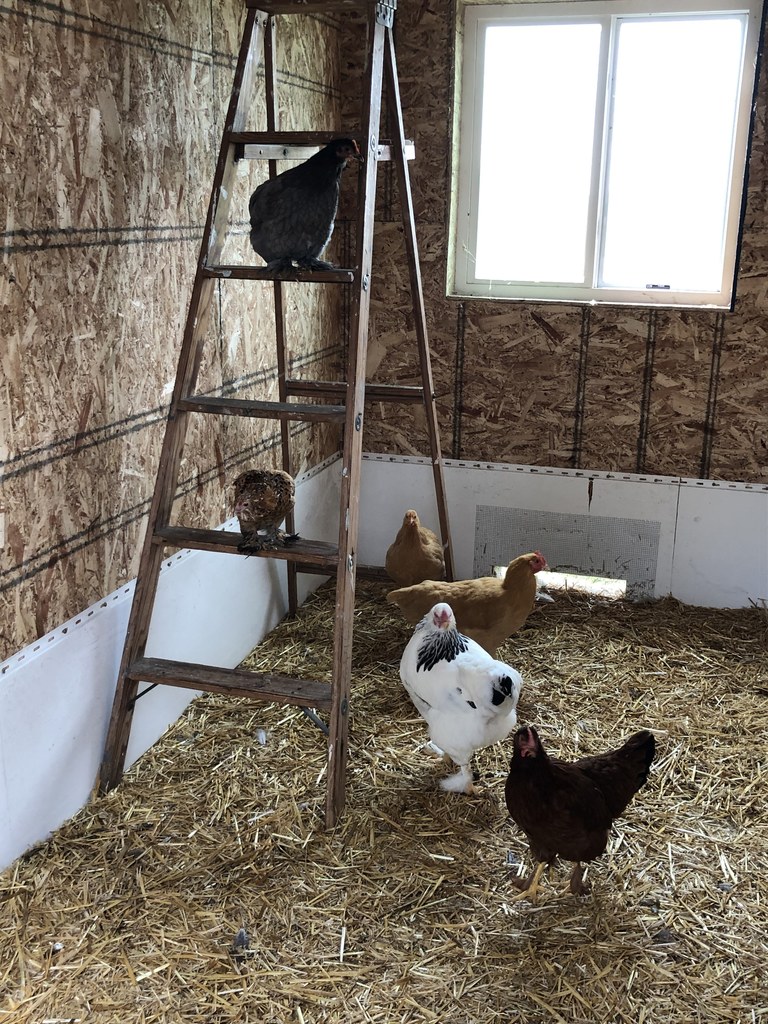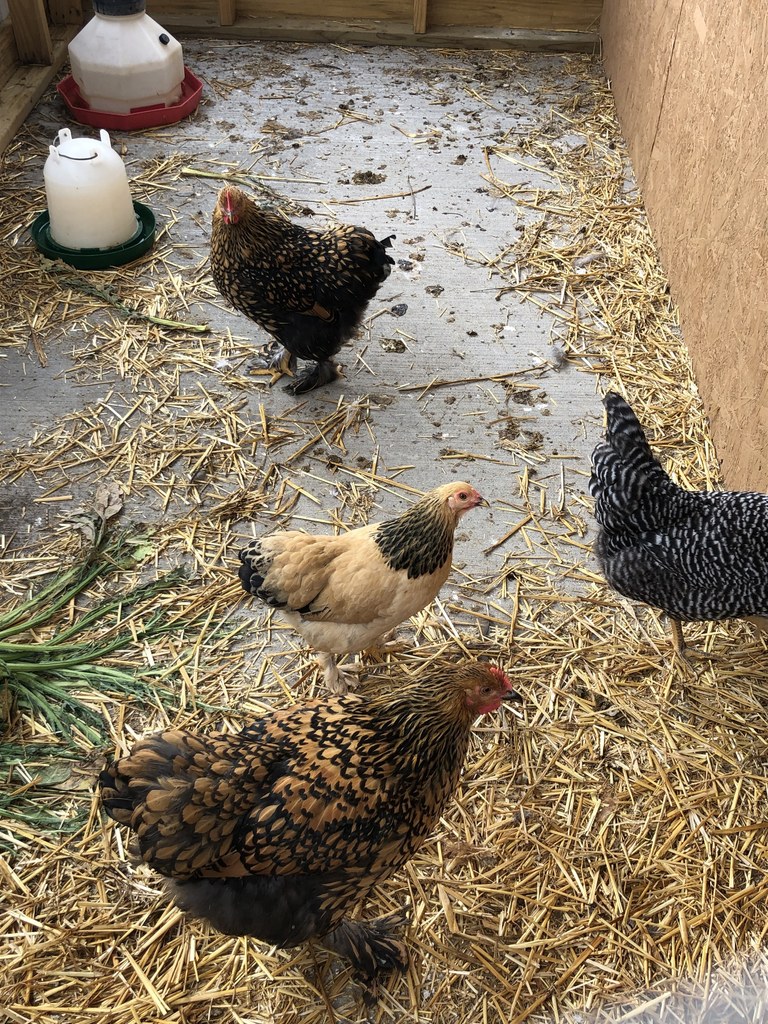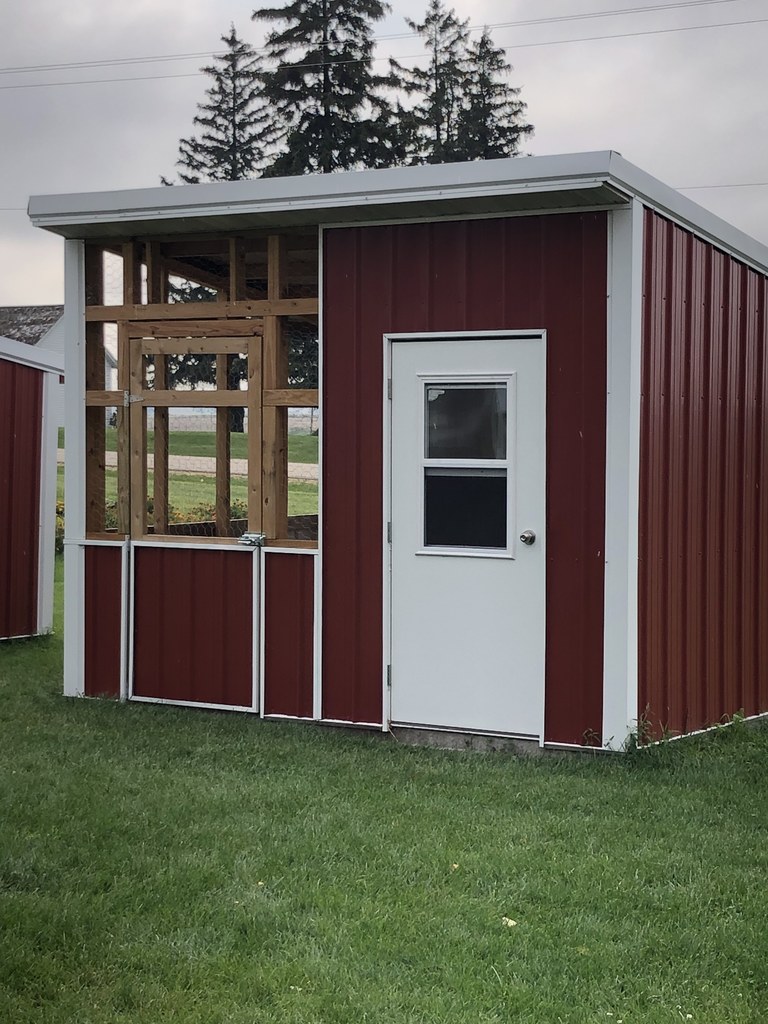 9/11/2021 Iowa-Grant Cross Country Results @ River Valley Invitational Girls Results 10th Place- Hope C. 29th Place- Ella W. 30th Place- Meagan C. 47th Place- Leslie B. 52nd Place- Savannah V. Finished 7th Place As A Team. Boys Results 5th Place- Mason A. 16th Place- Caden P. 23rd Place- Owen L. 25th Place- Bret C. 52nd Place- Felix B. Finished 3rd Place As A Team. This weeks races: 9/14/21 @ North Crawford 5:45p 9/16/21 @ Boscobel 7:15p (Night Run) GO PANTHERS!