Good luck to the Iowa-Grant Volleyball girls as they start with their annual scrimmages today. 8/21/21 Varsity girls play @ Waunakee starting at 9:00am Varsity Scrimmage Schedule Below and 8/21/21 JV and Freshman girls play @ River Valley also starting at 9:00am JV/Freshman Scrimmage Schedule 9:00 RV vs IG 9:45 IG vs RC 10:15 RV vs RC Go Panthers!!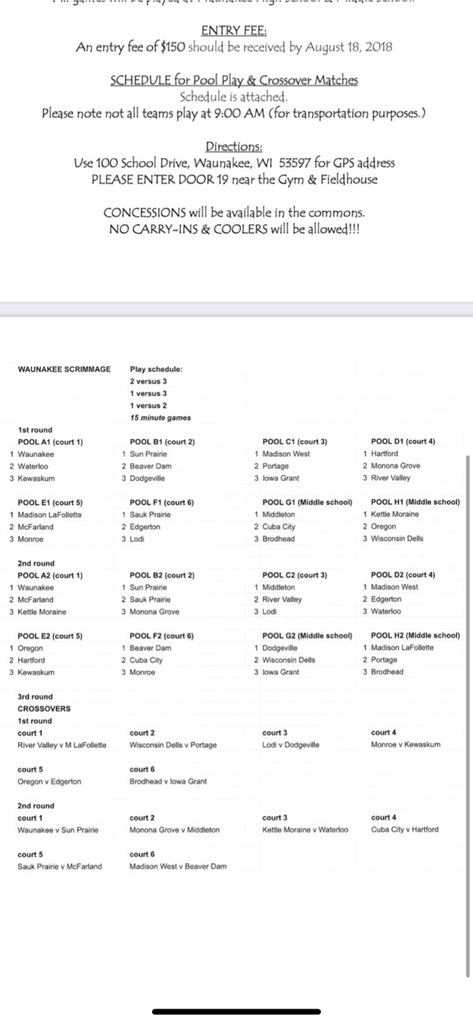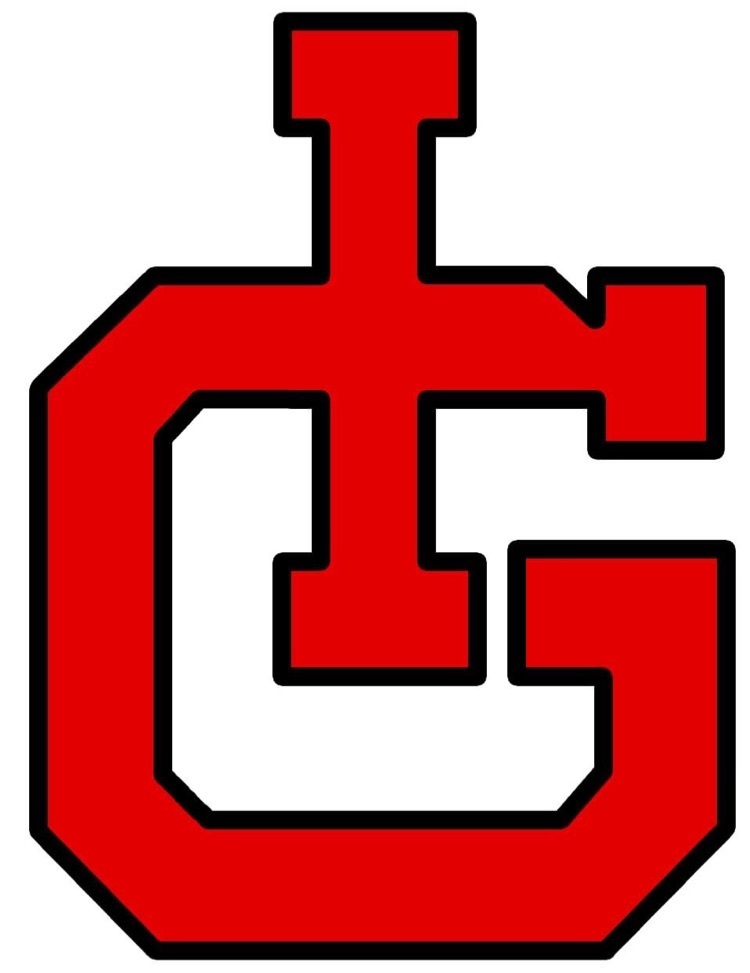 Evie W. enjoyed her time exhibiting at the 2021 Wisconsin State Fair. Evie got second place with her Brown Swiss spring calf and fourth place with her Brown Swiss spring yearling. Great job, Evie and good luck at the upcoming Iowa County Fair!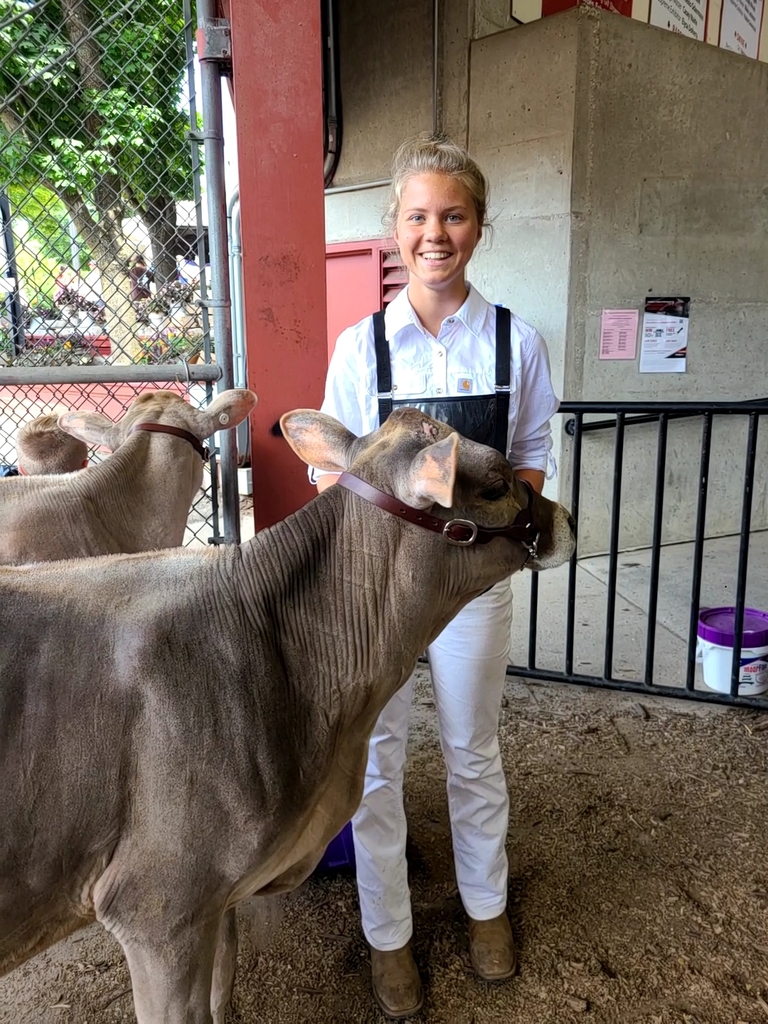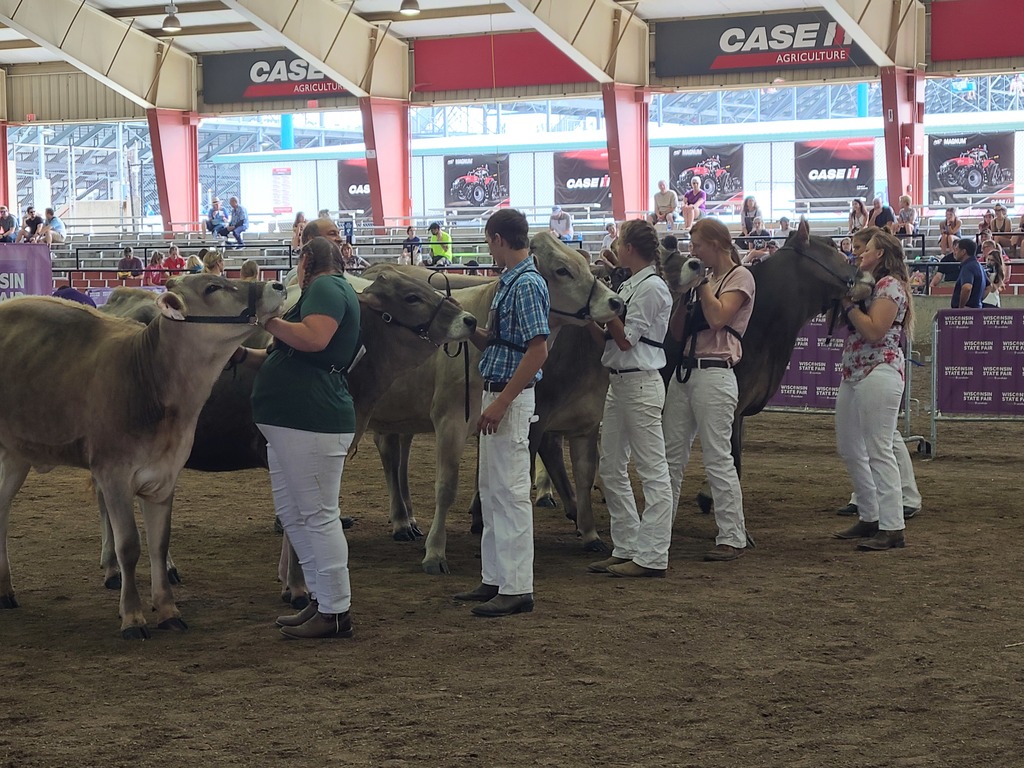 Congratulations to Alexis and her successes at the 2021 Wisconsin State Fair. Here is what Alexis has to say, "After a year delay, my third competitive year at Wisconsin State fair was definitely one to remember. To start the very long week, I led my heifer to 12th place in showmanship 15. The next few days, I exhibited my Brown Swiss cows in their aged divided classes. My winter calf, Madison, was 14th of 25. My summer yearling, Junebug, blew me away and was 2nd in her class and 4th overall yearling heifer. Junebug was also reserve champion bred and owned yearling and honorable mention bred and owned heifer. My success continued in the cow show where my jr. 2 year old, Stormy, won her class and was selected as reserve bred and owned grand champion. Words can not describe how truly thankful I am to have had this experience at the Wisconsin State Fair. The memories and friendships made will truly last a life time."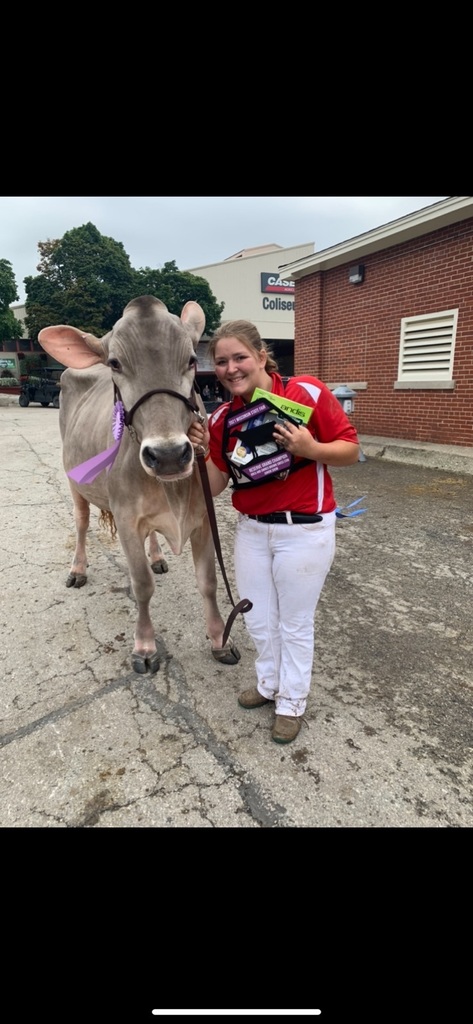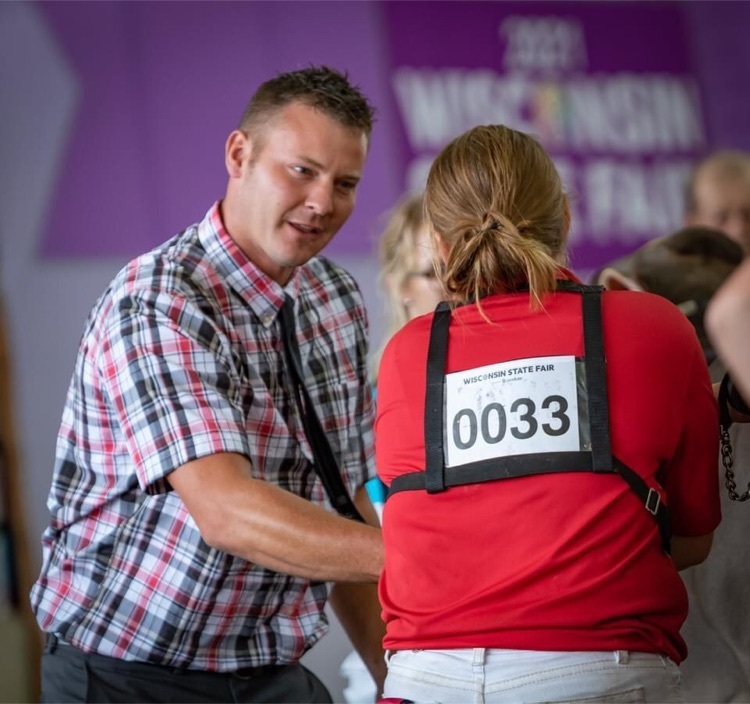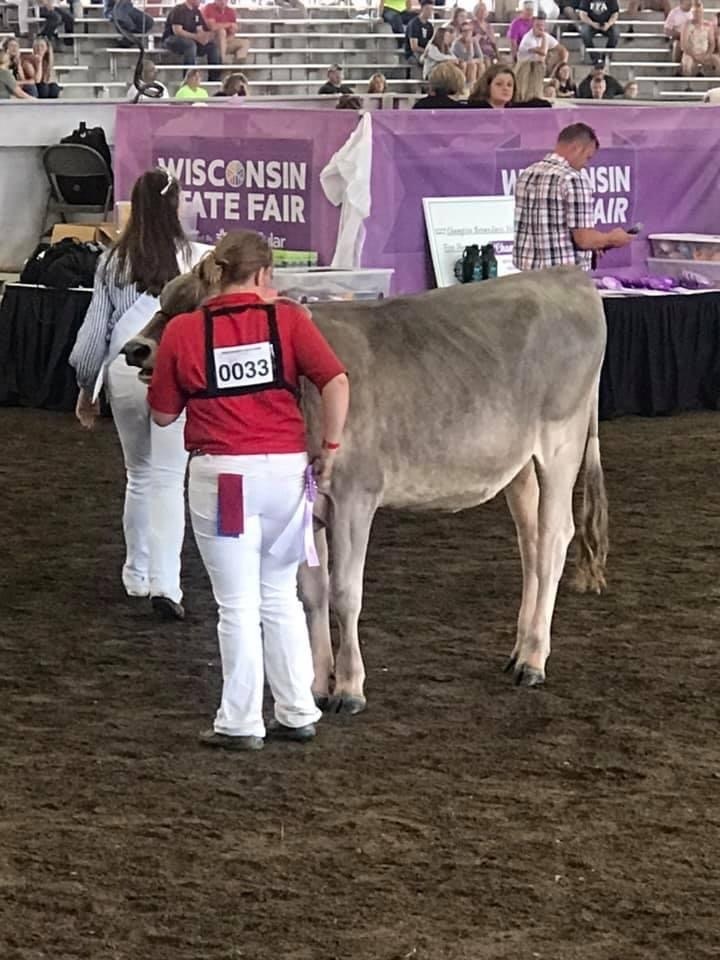 IGEMS Back to School Night - Wednesday, August 25th from 3:30 PM - 7:00 PM IGHS Back to School Night - Thursday, August 26th from 3:30 PM -7:00 PM We hope to see you there! Welcome Back Panthers!!!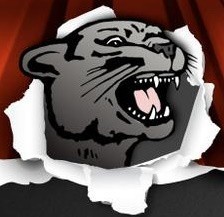 The I-G Cross Country team store is open and accepting orders! There are two designs to choose from and a huge variety of items. Orders are due Thursday, August 26. A percentage of the sales goes to support the team, so you can look great AND support your Panther runners! If you have any questions, contact Coach Winkler.
https://iowagrantcc21.itemorder.com/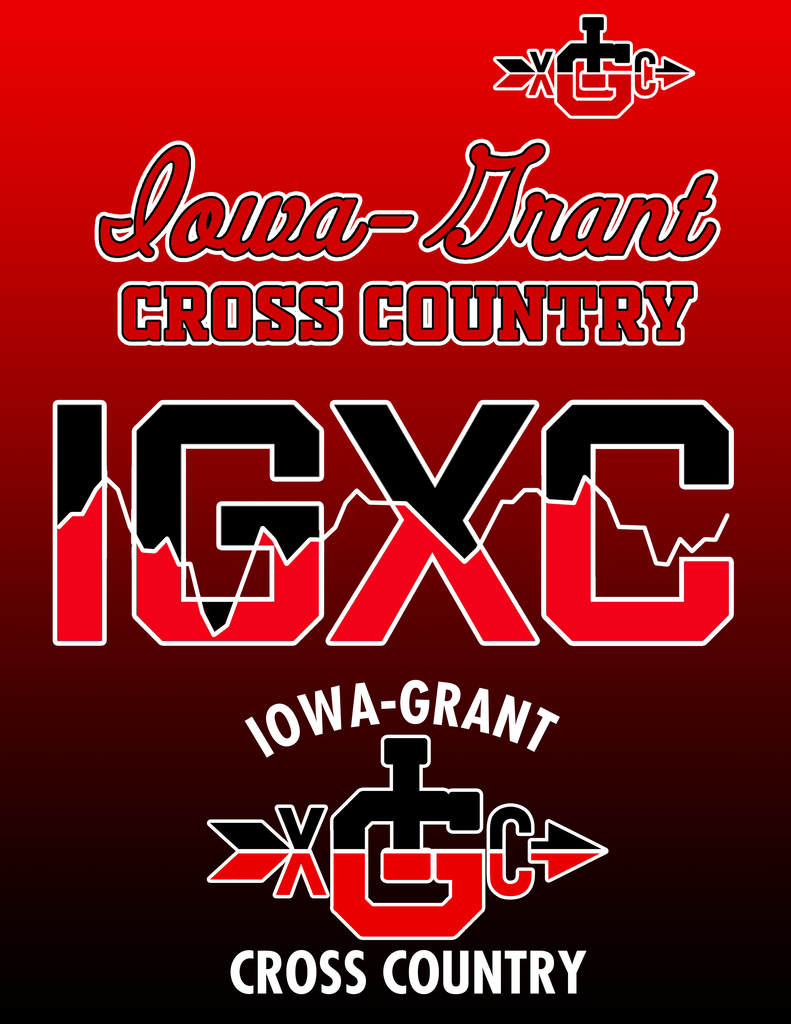 Welcome back, Panthers!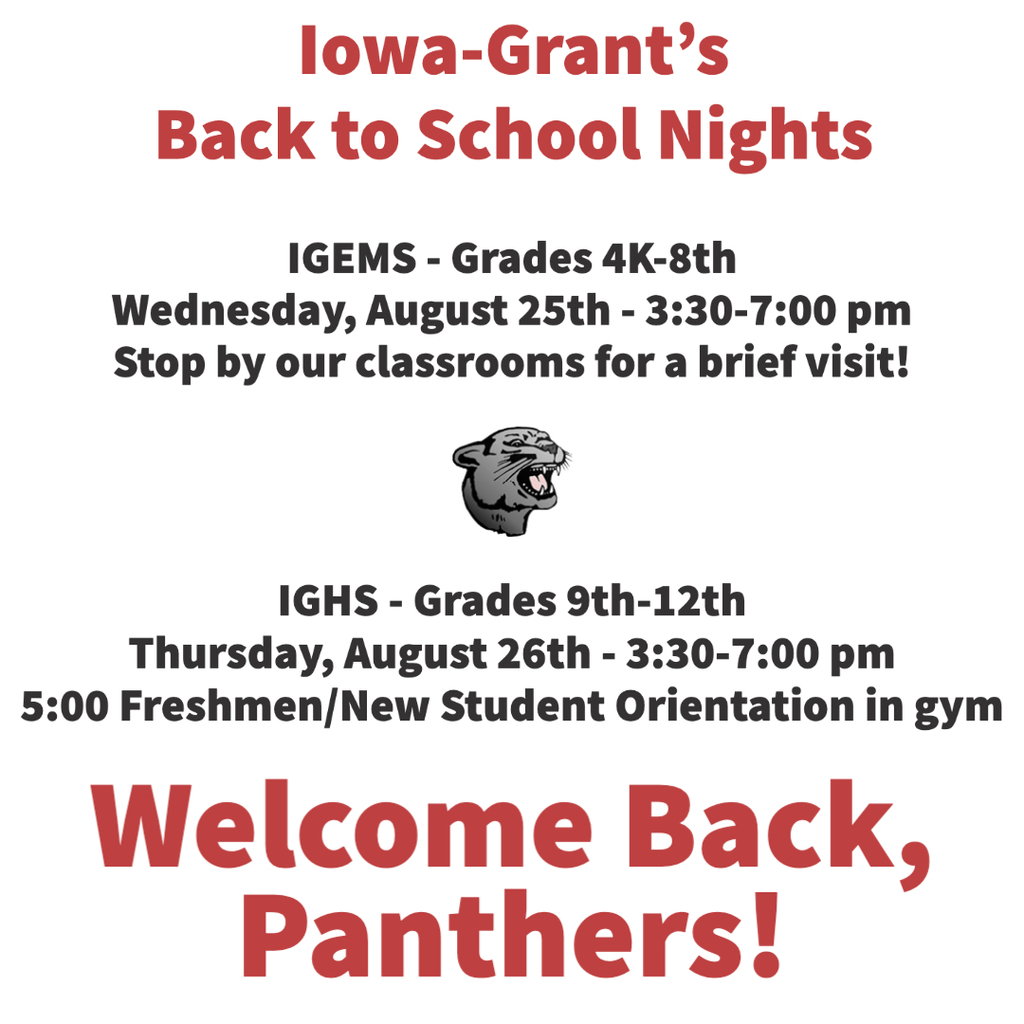 History of "The Milk Can" Game Fennimore Golden Eagles vs. Iowa-Grant Panthers "The Milk Can" Game All-Time Record: Iowa-Grant 33 Fennimore 17 Next Game: 51st Annual - Week 1- (Non-Conference Game) 8/20/21 Iowa-Grant @ Fennimore 7:00p Live Stream:
https://www.youtube.com/user/FennimoreSchools/live
History of the "The Milk Can" Game The battle for the "can" started in 1970 and the Golden Eagles claimed it first with a 28-0 win. How did this all come about? It all started in 1955 when two young men returned from the military and enrolled at UW-Platteville. Larry Thurston and Jim Piquette fought in the Korean War, Thurston as a member of the U.S. Army and Piquette as a U.S. Marine. While they were attending college for the education, they were also there to pursue their passion...football. The two men met at the first day of practice for the Pioneers in August and from that day forward they were best friends. After graduation they went their separate ways and both landed jobs as teachers and coaches. In the late 1960s Thurston was named head football coach at Fennimore and about the same time Piquette was given the same position at Iowa-Grant. They both met up at numerous coaching clinics where they begged, borrowed or stole any ideas that might help their programs. It was at one of the clinics that they decided if their teams were going to play each other, they might as well play for something. That something was determined to be..."The Milk Can." Because a silver milk can is not a thing of beauty, they decided a little paint would help. One side is painted red and black for Iowa-Grant and the other maroon and gold for Fennimore. After each game, the year and score of the game is painted on the can. "The Milk Can" Game All-Time Record: Iowa-Grant 33 Fennimore 17 Courtesy: The Dodgeville Chronicle History of the "The Milk Can" Game Scores 53rd annual 2023- TBA 52nd annual 2022- 8/19/22 Fennimore @ I-G 7:00p 51st annual 2021- 8/20/21 I-G @ Fennimore 7:00p 2020- No Game Due to COVID-19 50th annual in 2019- Fennimore Won 36-8 49th annual in 2018- Fennimore Won 35-0 48th annual in 2017- Fennimore Won 28-8 47th annual in 2016- Fennimore Won 13-6 46th annual in 2015- I-G Won 22-12 45th annual in 2014- I-G Won 31-21 44th annual in 2013- I-G Won 27-7 43rd annual in 2012- I-G Won 42-21 42nd annual in 2011- I-G Won 20-0 41st annual in 2010- I-G Won 25-13 40th annual in 2009- I-G Won 24-0 39th annual in 2008- Fennimore Won 51-19 38th annual in 2007- Fennimore Won 33-9 37th annual in 2006- I-G Won 23-21 36th annual in 2005- Fennimore Won 18-0 35th annual in 2004- I-G Won 27-17 34th annual in 2003- Fennimore Won 21-20 33rd annual in 2002- Fennimore Won 28-14 32nd annual in 2001- Fennimore Won 41-36 31st annual in 2000- Fennimore Won 13-12 30th annual in 1999- Fennimore Won 22-12 29th annual in 1998- Fennimore Won 22-13 28th annual in 1997- I-G Won 17-7 27th annual in 1996- I-G Won 37-7 26th annual in 1995- I-G Won 32-6 25th annual in 1994- Fennimore Won 33-0 24th annual in 1993- I-G Won 35-0 23rd annual in 1992- Fennimore Won 28-9 22nd annual in 1991- I-G Won 24-14 21st annual in 1990- I-G Won 20-18 20th annual in 1989- I-G Won 48-6 19th annual in 1988- I-G Won 42-6 18th annual in 1987- I-G Won 28-0 17th annual in 1986- I-G Won 26-7 16th annual in 1985- Fennimore Won 7-6 15th annual in 1984- I-G Won 13-0 14th annual in 1983- I-G Won 3-0 13th annual in 1982- I-G Won 13-12 12th annual in 1981- I-G Won 12-0 11th annual in 1980- I-G Won 13-0 10th annual in 1979- I-G Won 35-6 9th annual in 1978- I-G Won 8-0 8th annual in 1977- I-G Won 22-0 7th annual in 1976- I-G Won 13-0 6th annual in 1975- I-G Won 25-0 5th annual in 1974- I-G Won 12-0 4th annual in 1973- I-G Won 26-0 3rd annual in 1972- I-G Won 20-14 2nd annual in 1971- I-G Won 7-0 1st annual in 1970- Fennimore Won 28-0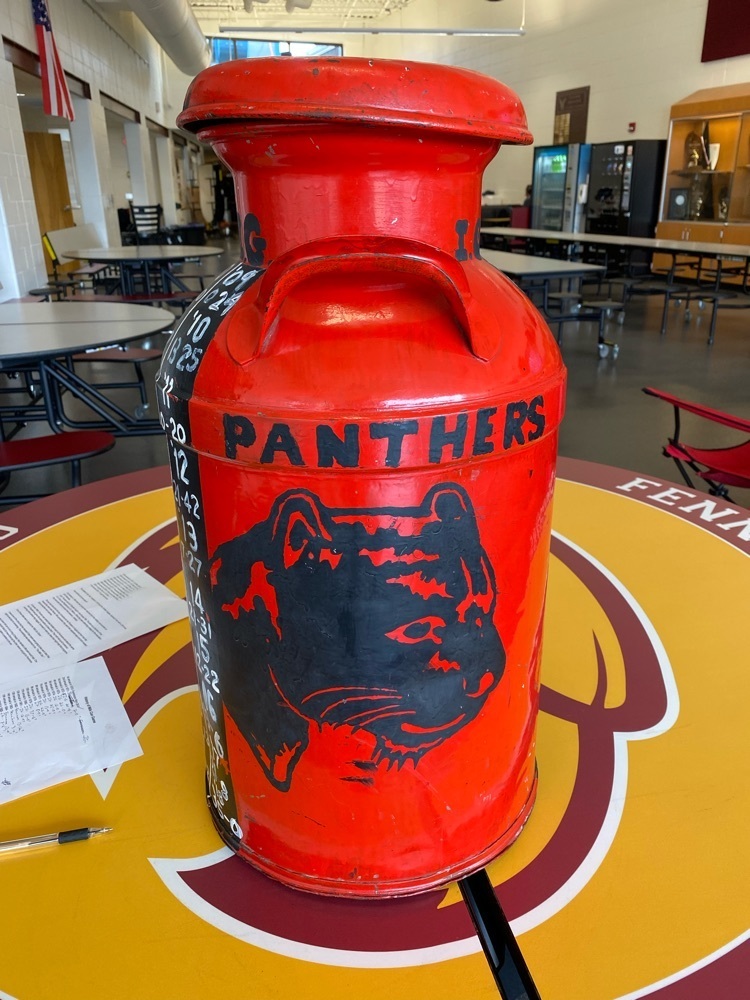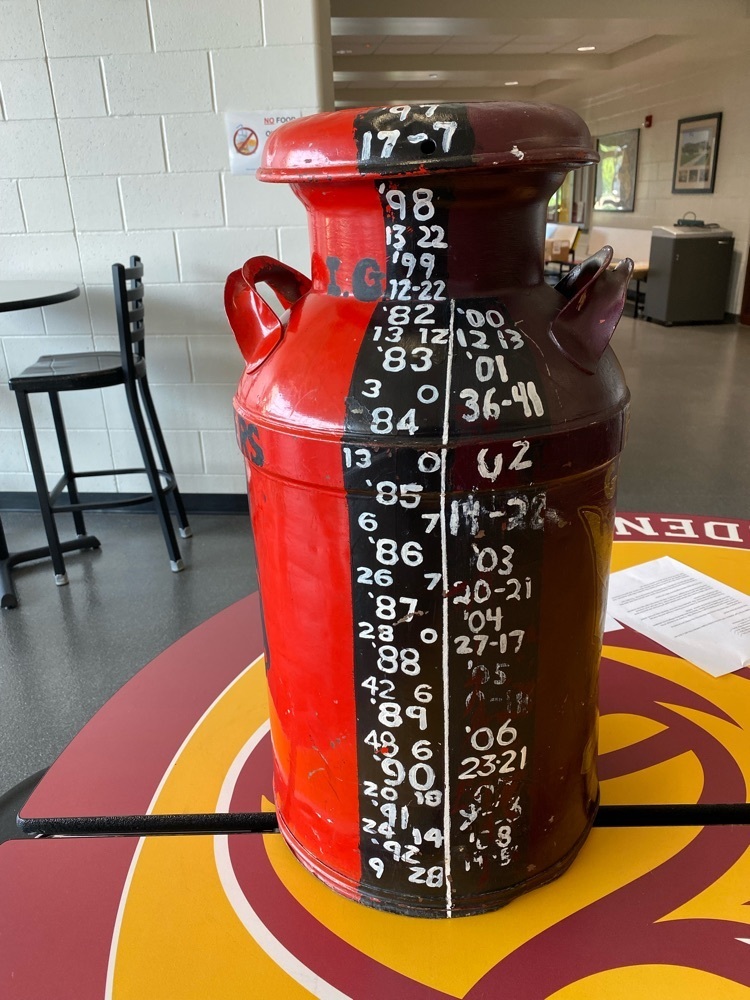 Iowa-Grant Volleyball Apparel Store is now open! There is also spiritwear available for your family and friends. Check out the shop details below. OUR SHOP DETAILS - Shop Now:
https://www.bsnteamsports.com/shop/RGCHpwvUQc
- Store Open From: August 16 - August 30, 2021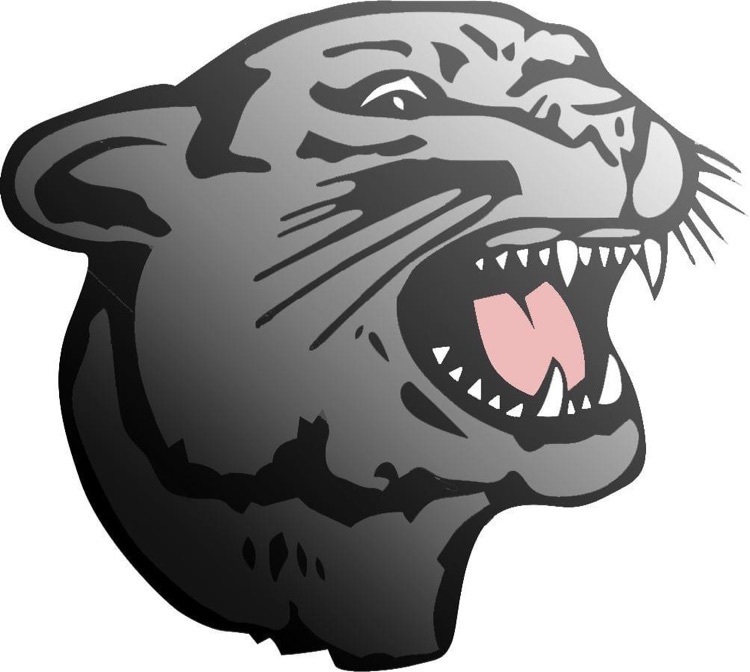 NOW HIRING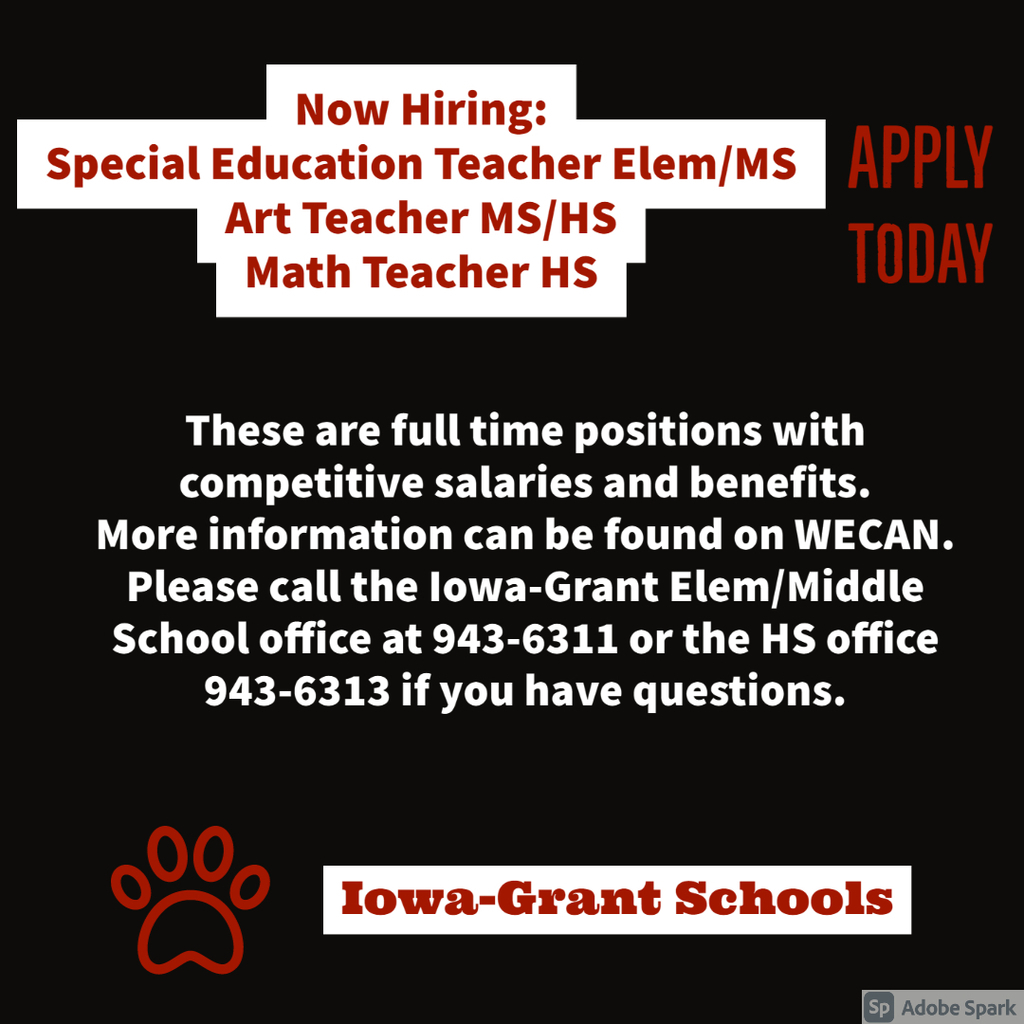 IGEMS Picture Day is Wednesday in the IGEMS gym from 11 am-7 pm! Jostens recommends NOT wearing green so you can customize your photos and backgrounds.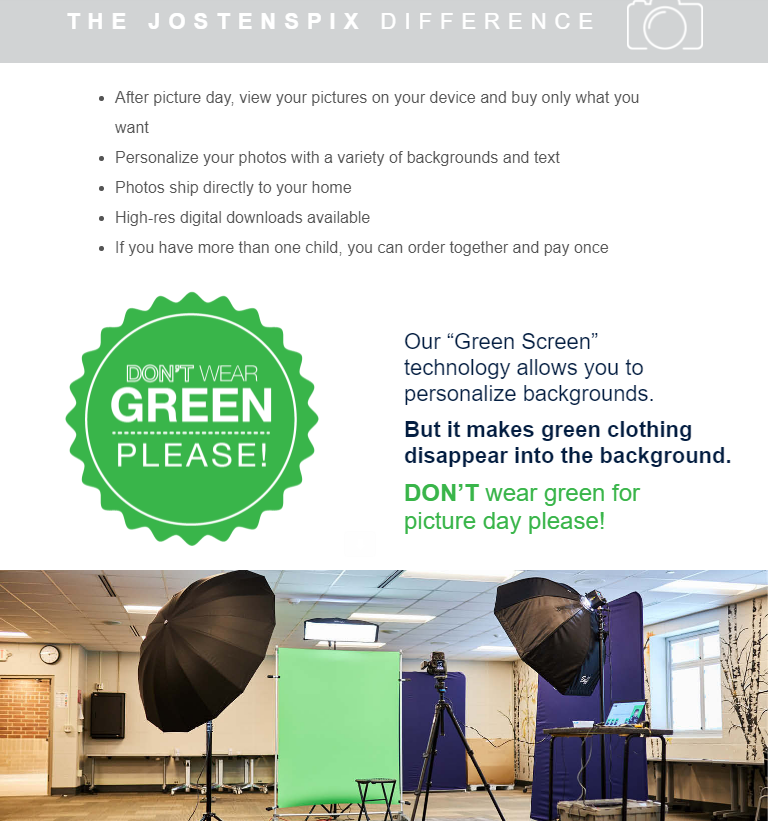 First day of practices for all Iowa-Grant Panthers Fall Cheer members. Enjoy the moments,cheer loud and proud from start to finish! You got this!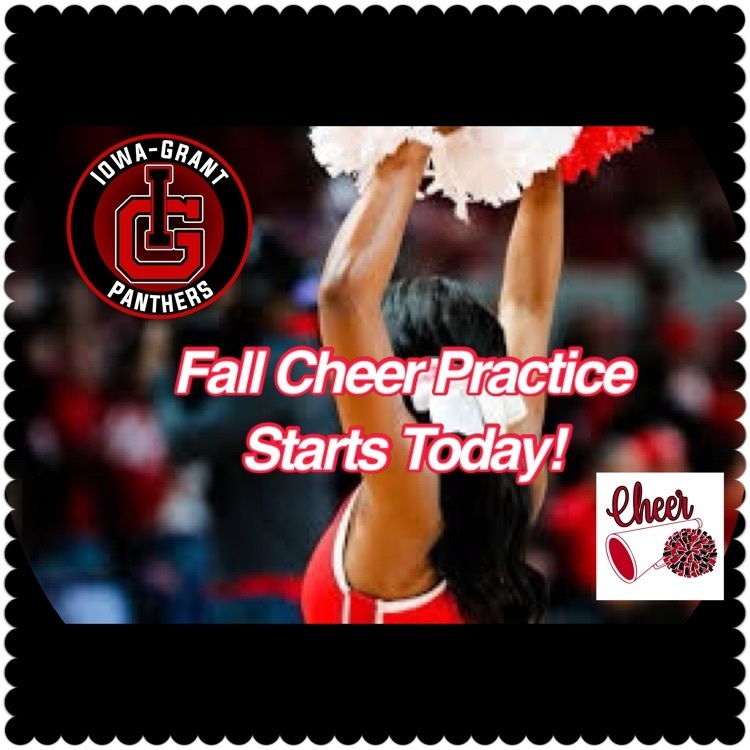 The journey begins when the season starts! Happy first practice of the season to the Iowa-Grant Panthers Volleyball teams today! Let's have a great season! 🏐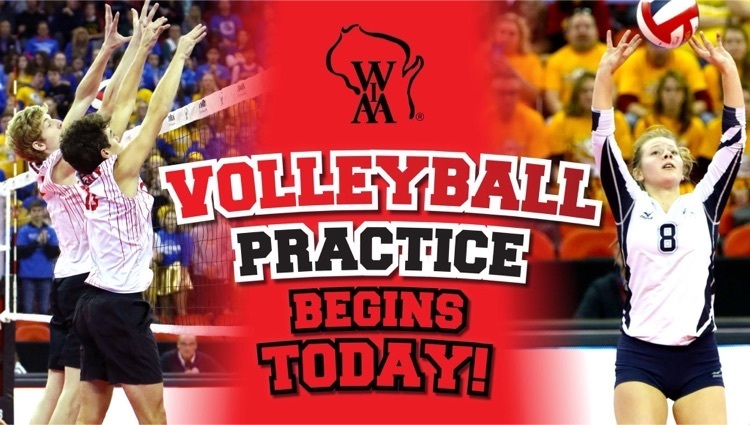 Cross Country practices are officially underway! Good luck to the Iowa-Grant Panthers runners this season! Set your goals high and chase after them all season long. 🏃‍♀️🏃‍♂️ #wiaaxc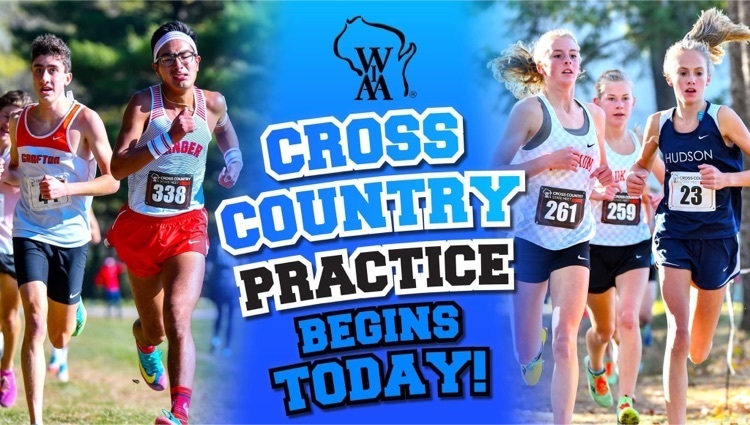 NOW HIRING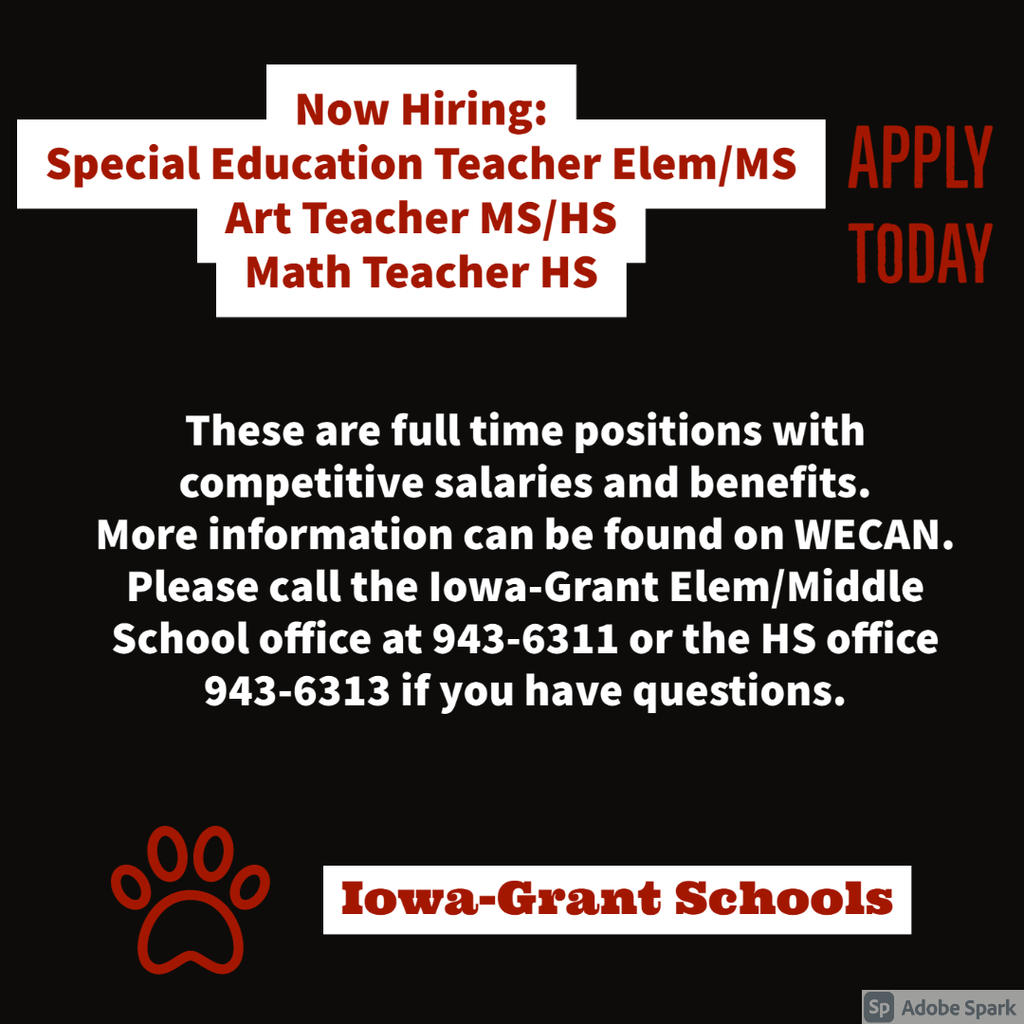 IGEMS Picture Day is this Wednesday in the IGEMS gym from 11 am-7 pm. Jostens suggests NOT wearing green so you have more options for backgrounds and customization. Smile!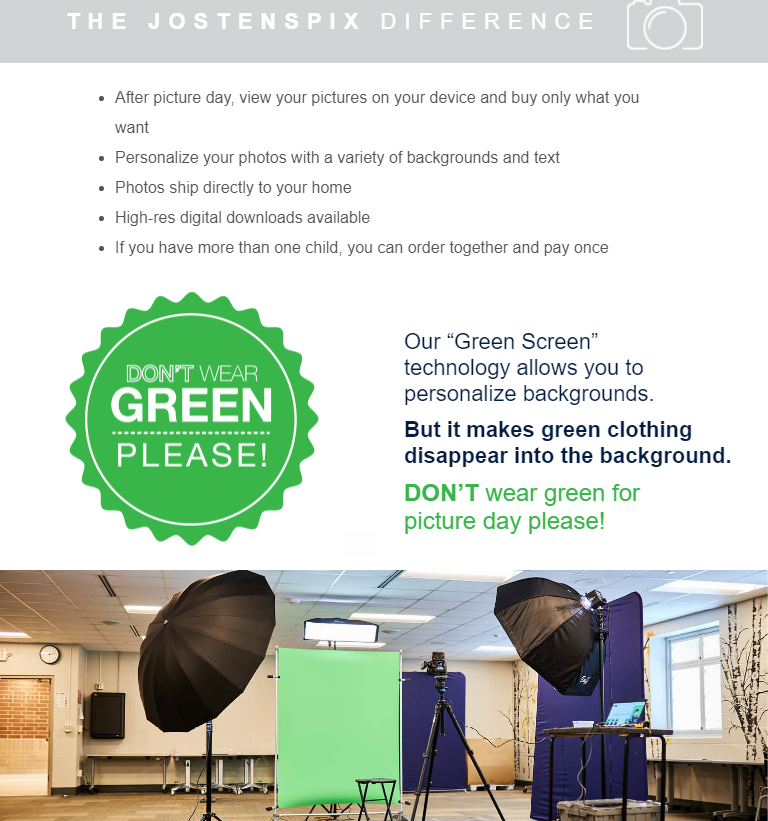 Iowa-Grant High School Freshmen and New Student Orientation will be held on IGHS Back To School Night - August 26th, from 5:00 PM - 5:45 PM in the IMC.

Baylee's trip to the 2021 Wisconsin State Fair was an exciting one! All her hard work paid off as she received Grand Champion and Reserve Champion with her two registered dairy steers. She would like to thank all those who helped her out for her first state fair experience. Special thank you to American Foods Group for purchasing her steer and contending bidders, Case I-H. Way to go, Baylee!!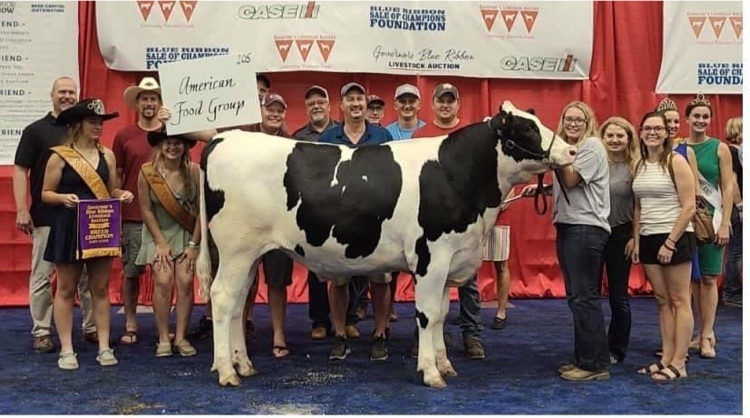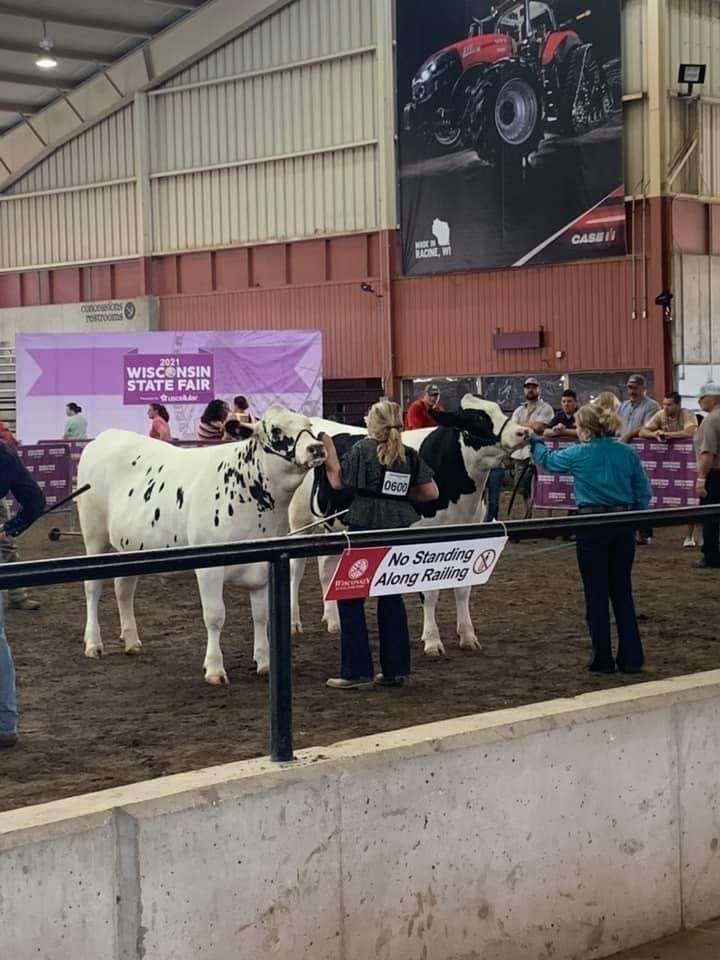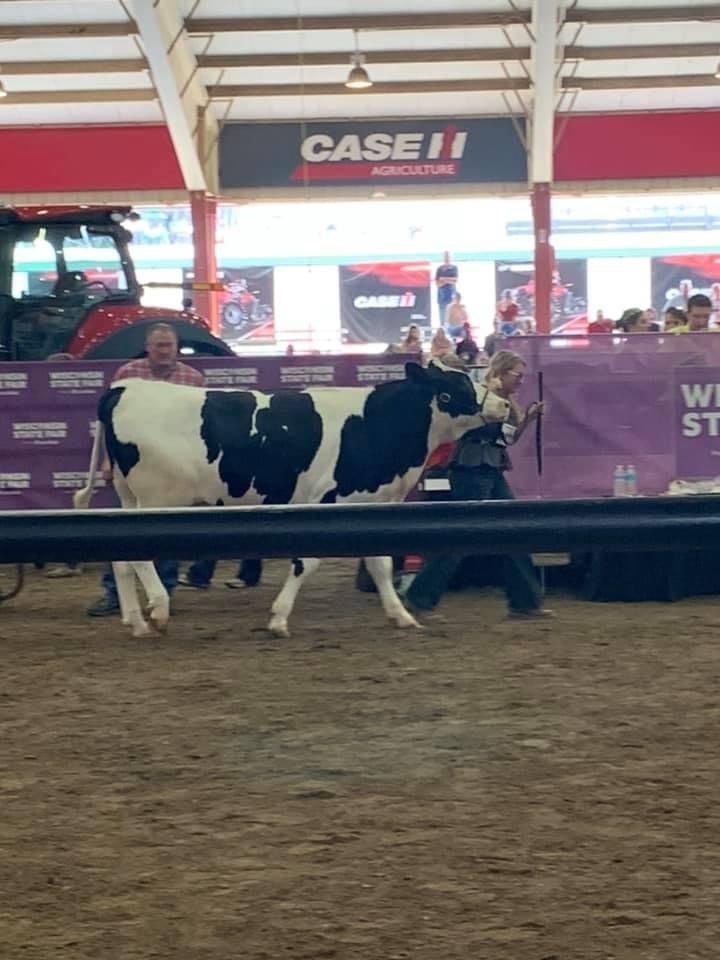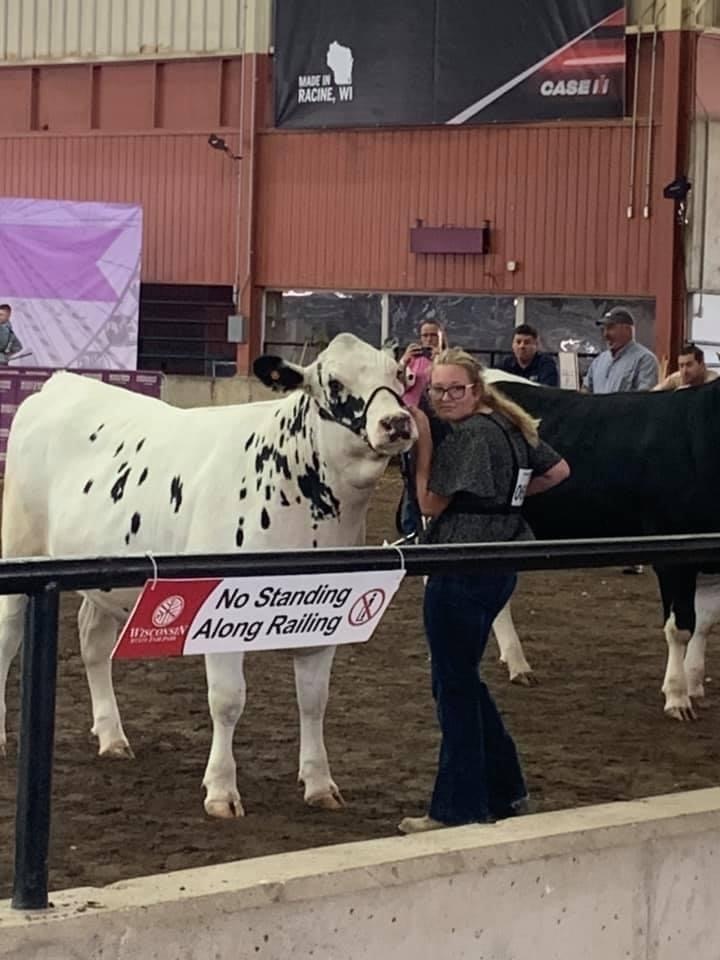 Congratulations to Kaycee L. on her 2021 Wisconsin State Fair appearance. Kaycee won the 13 year old showmanship class, received the Reserve Bred and Owner Foundation Simmental award, received Reserve Champion Hereford Jackpot Steer, and placed second with her angus steer. Kaycee wants to thank everyone that helped her have a successful show. Congratulations, Kaycee!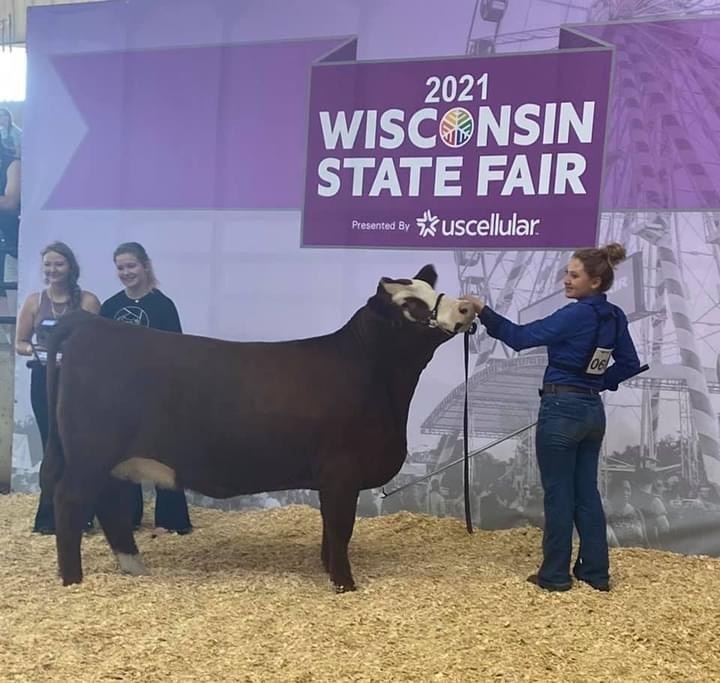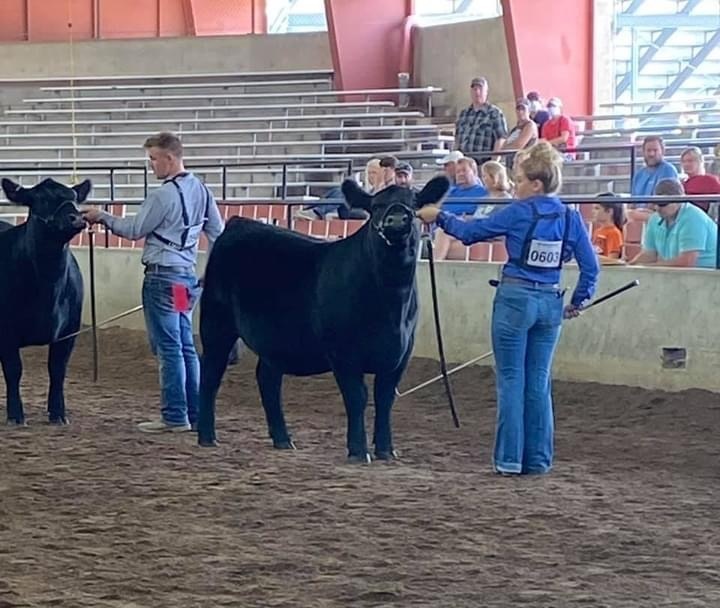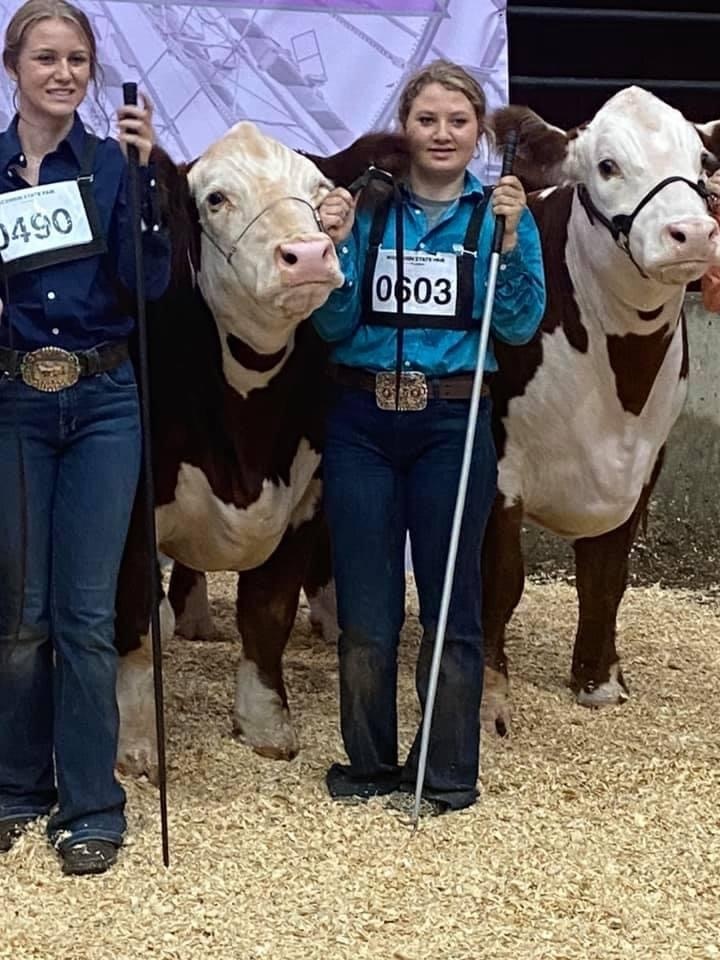 Mrs. Hammerly had her last farm visit for the summer. This is only Evie W. second year showing Brown Swiss cattle at many shows throughout the summer. Her passion for agriculture and her animals is shown by how well she cares for her cattle and works with them regularly. Good luck at the Wisconsin State Fair and Iowa County Fair, Evie!